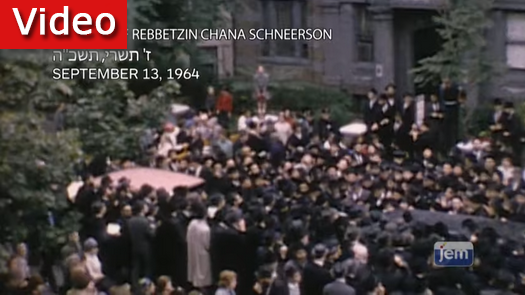 JEM: My Son, The Rebbe
The sixth of Tishrei marks the Yahrzeit of the Rebbe's mother, Rebbetzin Chana Schneerson. She stood faithfully at the side of her husband, Rabbi Levi Yitzchak Schneerson, as he sacrificed his life for the preservation of Judaism under the Soviet regime. After his untimely passing in 1944, Rebbetzin Chana made her way to the United States, risking her life to smuggle out his Torah writings.
She spent her final years proudly watching her son who, as seventh Rebbe of Chabad, would profoundly change the face of the Jewish world. The Rebbe established a fund in her name, and would commemorate her passing by paying tribute to her life and speaking about the special role of the Jewish woman. Today, thousands of individuals and institutions carry her name, as they strive to perpetuate her remarkable legacy.
Watch the full new Living Torah film:
https://go.jem.tv/my-son-the-rebbe
Experience more Vov Tishrei moments with the Rebbe:
Tishreiwiththerebbe.com