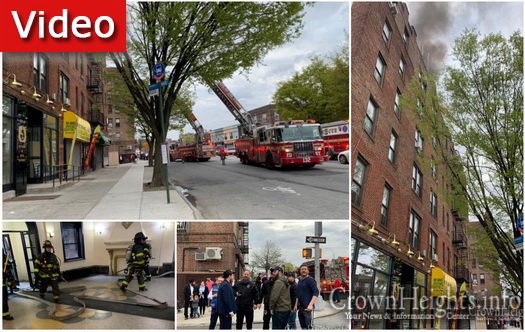 Roof Fire Evacuates Building in Crown Heights, No Injuries Reported
by CrownHeights.info
A fire that broke out on the roof of a large apartment building in Crown Heights evacuated tens of families Sunday afternoon, thankfully leaving only property damage.
The fire broke out on the roof of the 62 unit building on the corner of Empire Blvd and Brooklyn Ave at around 6:30pm Sunday sending fire crews scrambling to the roof seven flights up.
The fire was identified as having been from an electrical malfunction to a cell tower, which sent flames and black smoke up into the sky.
After evacuating the building's residents, the firefighters stretched hoses to the roof and doused the fire.
Despite a heavy response by first responders, including Hatzalah, Shomrim and local EMS, no one was reported hurt.
The damage to the building appeared to have remained contained to the roof, with no reports yet if any apartments were even damaged by flooding or flames.