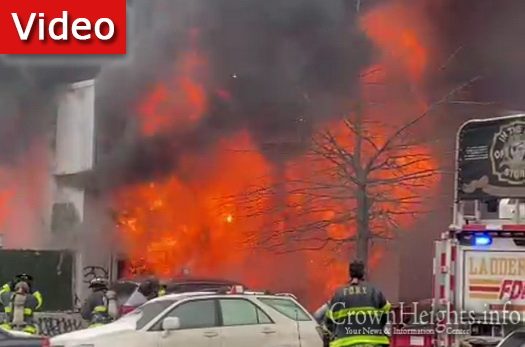 UPDATED 11:50AM: Massive Fire Burning Through Buggy Location On Empire Blvd
by CrownHeights.info
A massive fire is ripping through one of Buggy's locations on Empire Blvd in Crown Heights, sending smoke billowing into the air.
According to reports, the fire started at approximately 10:30am on Empire between Rogers and Bedford, at one of Buggy's locations used as a mechanics shop.
Firefighters arrived to tackle the blaze and transmitted a Second Alarm, as they encountered difficulty with frozen or out of service hydrants.
Update 11:00am: Third alarm has been transmitted and a request made for the FDNY foam unit to help put out the fire.
Update 11:10am: Reports indicate that there were no injuries from inside the building when the fire ignited, but with a large amount of flammable chemicals, the smoke is quite toxic.
Update 11:25am: Originally, the fire caught on multiple cars at the mechanics garage as well, but they have since been put out.
Update 11:40am: Firefighters report that the main fire has been extinguished and they are tackling the smaller fires.
Update 11:50pm: Sources tell CrownHeights.info that the location was a third party mechanics shop that contracts with Buggy to fix their vehicles.