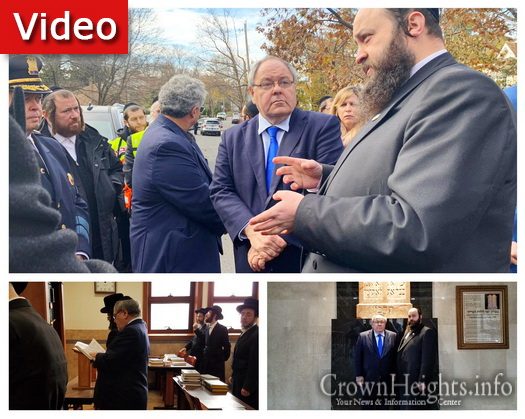 by Monsey.info
Consul General of Israel to the United States, Dani Dayan, visited the location of this mornings attack in Monsey.
He was met by a crowd of community leaders and the local Chief of Police.
On his twitter feed he posted that he "was briefed by the Chief of Police and local authorities, and davened Mincha in the nearby Shul."
The 30 year old victim of the vicious attack is still in need of Refuah, please say tehillim for Mordechai Ben Bracha.
Video Courtesy of Rockland Scoop

THANK YOU @AmbDaniDayan for visiting the crime scene, and joining in prayers for the victim.

An attack on one of us, is an attack on all. pic.twitter.com/xPdIXCNwXV

— Rabbi Yisroel Kahan (@ykahan) November 20, 2019
I arrived to Monsey immediately after I was notified about the stabbing of an Orthodox Jew there. I was briefed by the Chief of Police and local authorities and davened Mincha in the nearby Shul. We pray for a full recovery of Mordechai Ben Bracha pic.twitter.com/AYrEBR768g

— Dani Dayan (@AmbDaniDayan) November 20, 2019