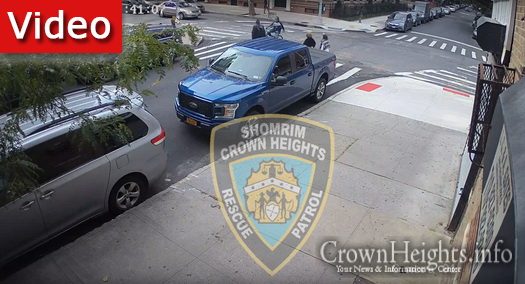 Crown Heights Shomrim released video of the assault on a Jewish man Shabbos day. The assault was reported immediately to the police, and is being investigated as a hate crime.
by CrownHeights.info
Crown Heights Shomrim has released surveillance video showing the hate filled attack on a Jewish man on Shabbos day.
As was previously reported on CrownHeights.info, around 12:30pm Saturday, as a Jewish man was walking on New York Ave through the crosswalk on Union Street, a black male riding his bike on Union street crossed in front of him. As the man rode by the man slapped the Jewish male in the face and stated "You dirty Jew."
The Jewish man immediately made his way into the 71st precinct on New York Ave and Empire Blvd and reported the incident.
The 71st precinct released a statement noting that the incident is being investigated as a hate crime, and that the NYPD's Hate Crime Task Force had been informed.