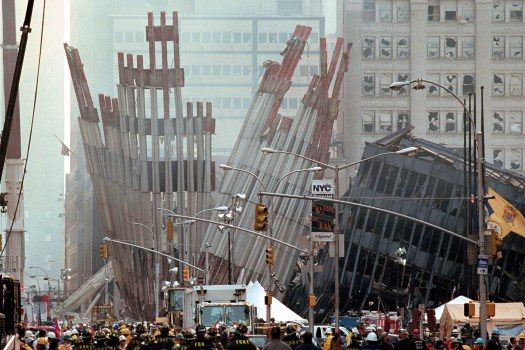 NY Daily News
It's a heart-breaking bird's eye view of New York's worst tragedy. Nearly 10 years after the 9/11 attacks, a shocking and powerful 17-minute video taken by an NYPD helicopter on that fateful day surfaced Monday on the web.
Obtained by the National Institute of Standards and Technology and leaked to the web, it shows the chopper flying close to and above the Twin Towers engulfed in clouds of smoke – and the stunned reactions of the cops when they suddenly collapse.
"The whole tower, it's gone," one officer is heard yelling. "Holy crap, they knocked the whole fricking thing down."
Consternation quickly sets in as an officer wonders out loud, "How could it go down?"
Earlier in the footage, the officers take a panoramic tour of the unfolding pandemonium – and get perilously close to the black roiling smoke.
Then the chopper touches down in a nearby park and stunned officers gaze up at one of still-standing towers, it's top shrouded by smoke.
The video then shows the chopper back in the sky – and the aftermath of the now-fallen tower.
"We got out of there at the right time," one officer can be heard saying.
"I know," another officer replies.
Back on the ground, the chopper crew watched in the distance as the North Tower falls.
"The North Tower is down," one of the officers radios.
"Holy —-," another officer can be heard saying.