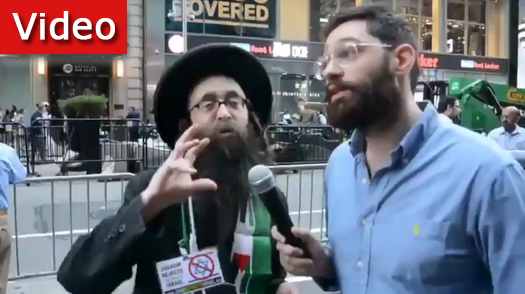 Watch: Shocking Video As Neturei Karta Member Says Hamas is Not a Terrorist Organization
Protesting Israel at the Israel Day Parade in Manhattan has become a yearly occurrence for a group of Neturei Karta activists. This year, a hard hitting video reporter decided to ask a simple question, one you would imagine would have an easy answer.
Watch through the stuttering and incoherent response, before the admission that he does not believe they are a terrorist organization.
Asking a free palestine/quds day protester if Hamas is a terrorist organization. It was like pulling teeth with this guy trying to get a straight answer.

Full Vid: https://t.co/5rzvJUHNLL#qudsday #hamas #israel #palestine pic.twitter.com/EybfthQ98T

— barely informed with elad 🕵🏻‍♂️ (@Barely_Informed) June 2, 2019