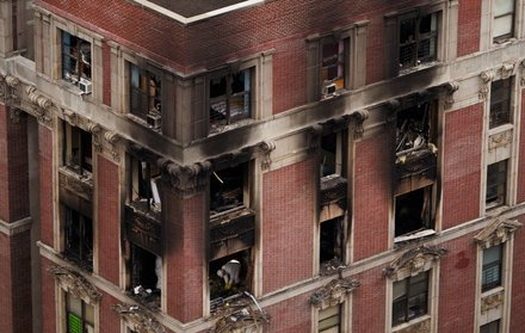 Six people, including four children, were killed Wednesday when an fire ravaged an apartment in a city-owned Harlem building overnight, fire and police officials said.
Firefighters, who were called at around 1:40 a.m., moved aggressively into the flames and thick smoke and found a man and a woman, as well as two girls and two boys ages 3 to 11, in bedrooms of the fifth-floor apartment, according to Fire Commissioner Daniel Nigro. The victims, all believed to be family members, were pronounced dead by emergency medical technicians.
Two adults, a 45-year-old mother and a 33-year-old man, were killed along with three children, an 11-year-old girl, an 8-year-old boy, a 6-year-old girl, and a 3-year-old boy.
Breaking: At least 6 people dead, including 4 children, in large building fire in Harlem, New York. pic.twitter.com/4LzXzPCJ9x

— PM Breaking News (@PMBreakingNews) May 8, 2019
UPDATE: Harlem Fire Death toll
45-year-old mom
33-year-old step-son
11-year-old daughter
8-year-old son
6-year-old daughter
3-year-old son

CAUSE: Accidental, after a stove burner was left on in their 5th floor kitchen per FDNY source. @PIX11News @FDNY pic.twitter.com/WRVBPRytVd

— Anthony DiLorenzo (@ADiLorenzoTV) May 8, 2019