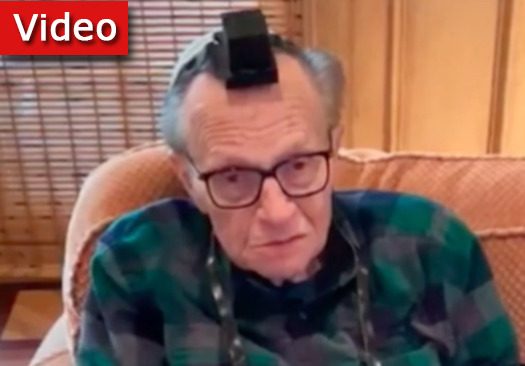 by Shiryn Ghermezian – The Algemeiner
Jewish talk show icon Larry King donned tefillin late last week as he joined a campaign launched in honor of a rabbi suffering from ALS, also known as Lou Gehrig's disease.
The campaign, launched for Chabad's Rabbi Yitzi Hurwitz seeks to have 15,000 adult men wear the Jewish prayer items in his honor.
In a video posted on Facebook, King is shown wearing his tefillin while telling Hurwitz "I know it's a tough fight you're in, but you're a tough guy. I just said prayers for you. I wish you nothing but the best. A good and better and long life."
Rabbi Hurwitz, a Chabad emissary to Temecula, Calif., has been suffering with ALS for six years and can only communicate through his eyes, according to Chabad.org.
Last year, a group of Jewish students set out to get 4,600 men around the world to don tefillin in the rabbi's honor as a gift for his 46th birthday. The campaign gained traction and resulted in an estimated 10,000 participants in 15 countries putting on phylacteries. Thousands of women also lit Shabbat candles that Friday in his honor.
In advance of the rabbi's 47th birthday on Saturday, the organizers sought to outdo last year's success, setting the goal at an ambitious 15,000.
"Wherever [Yitzi] went, he went with a pair of tefillin," said Rabbi Moshe Kotlarsky, director of the International Conference of Chabad-Lubavitch Emissaries and vice chairman of Merkos L'lnyonei Chinuch—the educational arm of the Chabad-Lubavitch movement—in a video released ahead of the campaign, "and he sought to put on tefillin with as many Jews as he could. Unfortunately, he cannot go to put on tefillin with anyone, but we can do it for him."