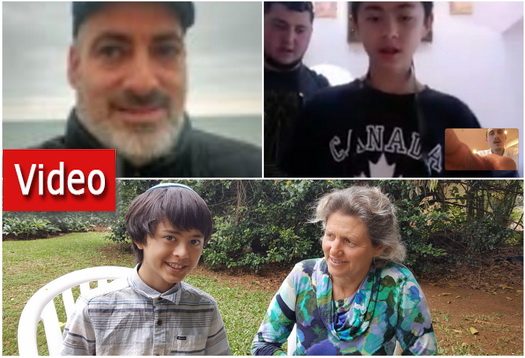 Help JNet Help Thousands of Jews
When Meryl Abrams of Kauai, Hawaii, needed someone to help her son Kala'e prepare for his bar mitzvah, she reached out to her JNet study partner, Malka Phillips.
Malka said, "I have someone who can help!"
She reached out to JNet and before long Kala'e was learning once a week with Zack Gilbert-Burke, himself a JNet member.
Kala'e shares: "We thought the learning was a one-time thing, but then I started learning with Zack every Sunday. He is one the nicest, funniest guys I have ever met. Sometimes it's hard to schedule because of the six-hour time difference between us, but we try to do at least 15 minutes every week. We put on tefillin, and then we do Jewish studies. Sometimes we just read the Torah and Zack answers my questions. He really helps me understand more about my religion, Judaism. When you are Jewish and you know the reasons for things you do, it gives Judaism so much more meaning, and that is what Zack helps me with."
Zack had been learning Mishnayos with Rabbi Shneur Tarlow while becoming more frum in university, and then with Rabbi Yisroel Ohana as he prepared to learn in Yeshiva in Mayanot.
He is one of many JNet students who have then gone on to inspire others through JNet.
JNet makes hundreds of chavrusas every year, helping people like Kala'e and Zack connect to their Yiddishkeit, and is currently having a year-end matching campaign.
"This is an organization that every Anash member should be part of," says Director Rabbi Yehuda Dukes. "You can volunteer for half an hour a week, sponsor a chavrusa for as little as $18 a month, or get someone you know to learn with a volunteer."
Often, a JNet Chavursa offers more than just Torah study, but the immeasurable gift of friendship and inspiration."
"Moshe Friedman has not only been an amazing learning partner, but he's become an invaluable friend," says Matt Brandstein, 46, of Chicago. "I've been in a health battle, getting rid of, be'ezras Hashem, a lymphatic cancer. Obviously, this has been complicated for a regular schedule, but it will resume soon enough. I am getting closer to the goal. The Chassidus I have learned over the past with Moshe has given me much strength and inspiration to get through this successfully. I am so grateful for JNet. Just as I have learned to care for my body in this process, I am determined to take the same effort for my Neshama as I regain my strength."
Help Zack, Kala'e, Matt, and thousands like them by donating to JNet's quadruple-matching year-end campaign at www.jnet.org/donate.
JNet is a project of Merkos L'Inyonei Chinuch Suite 302 established with a generous grant from the Rohr Family Foundation. If you or someone you know can benefit from learning or want to volunteer please contact us at info@jnet.org or text or whatsapp to 347-770-5638.