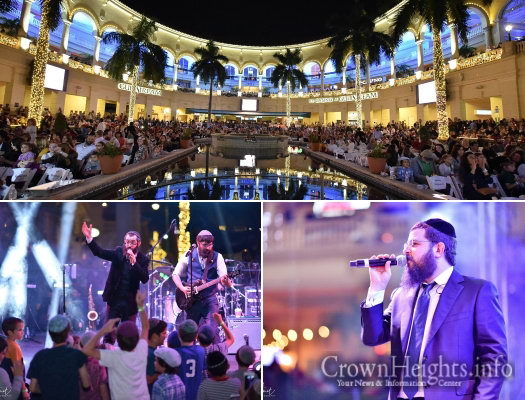 by Chaim Lehrer
Chabad of South Broward once again hosted and produced  the Worlds' Largest Annual Chanukah Festival in Hallandale Beach, Florida, with many thousands of people overflowing the three mammoth, glamorous and Disnyesque levels at Gulfstream.
The 38th Annual South Florida Chassidic Chanukah Festival was a Free Event, and was attended by thousands of South Floridians, and thousands of tourists from North America and from around the world.
The Chanukah Festival featured a star studded concert, headlining Jewish Music's Superstars Benny Friedman and the sensational Dynamic Duo 8th Day. The Festival was three hours of non stop Chanukah entertainment and enjoyment.
Over a thousand people danced for over an hour, near the stage, on the stage, and behind the stage, in an overwhelming expression of joy and gratitude of celebrating Chanukah in a most memorable and Chassidic manner.
The Festival also featured  the lighting of Florida's largest Menorah, led by Rabbi Cantor Yossi Lebovics, principal of the Chaya Aydel Seminary.
Over 2,000 boys and girls received Chanukah goodies, including a real dollar, chocolate coins and a dreidel.
The Festival was broadcast live around the world on Chabad.org.
This Mega Chanukah Event attracted scores of Government Officials, from local, state and federal government.
The Menorah is a symbol of religious freedom, and the lights of the Menorah are a beacon of light against the forces of darkness that plagues the world.
The lights of the Chanukah Menorah bring light and victory against the evil, tyranny and terror, that the world faces today.
Chanukah is the first holiday that celebrates freedom of religion, and freedom from oppression.
Rabbi Raphael Tennenhaus, Chabad's executive Vice President, says that, " the Chanukah Festival started in 1980, and gets bigger every year. "The Rebbe", said Rabbi Tennenhaus, "gave me a Brocha back in the 1980's, that our Annual Chanukah Festival should grow each year as the lights of the Menorah grow each night. It was obvious to one and all, that this blessing continues, from strength to strength".
The Cities of Hallandale Beach and Hollywood and the Broward County Commission, issued Proclamations of "100 Days to Increase in acts of goodness and kindness" to hasten the coming of Moshiach.  The 100 days began the day of the Chanukah Festival and concludes on 11 Nissan, the Rebbe's birthday.
Special thanks goes to Rabbi Levi Tennenhaus, Chabad's youth director and Festival coordinator, who was assisted by Itai Antian, Rabbi Moshe Schwartz, Rabbi Mordy Feiner, Rabbi Mendy Tennenhaus, Rabbi Yossi Lebovics and the students of the Chaya Aydel Seminary.
A "shout out" to all the sponsors, whose names were submitted in Rabbi Tennenhaus's monthly report to the Rebbe's Ohel, to the City of Hallandale Beach, the Police and Fire Departments of Hallandale Beach and to Gulfstream.