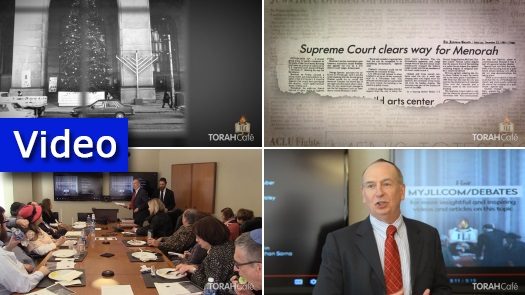 Giant menorahs in front of government buildings and in public squares have become a staple of the Holiday season and Jewish cultural and religious life, but the pioneering public menorahs of the 80's faced stiff legal battles.
In 1986, Chabad-Lubavitch of Pittsburgh erected its annual menorah display in front of City-County Building. The American Civil Liberties Union sued, claiming the proximity of the candles to the public building violated the First Amendment separation of church and state.
The case went to the Supreme Court, which ruled in 1989 that the Chanukah display did not constitute government endorsement of religion. That landmark decision set a precedent for the thousands of public menorahs which will be displayed across the country starting on December 12, the first night of Chanukah.
On December 6, two attorneys in the case, Jon Pushinsky, who represented the ACLU, and Charles H. Saul, who represented Chabad, presented the legal arguments for and against the constitutionality of the display of a menorah on public property at a special event at Chabad of Pittsburgh which is part of an ongoing lecture series entitled "Great Debates in Jewish History."
The series, which was created by the Rohr Jewish Learning Institute and was taught at 400 locations around the world, offers a glimpse into six of the most pivotal debates that engulfed the Jewish people at different periods of their long history, including the fall of Masada, the Dead Sea Scrolls and Maimonides' controversial writings.
The event was accredited by the PA Continuing Legal Education Board for 1.5 CLE credits.
Chabad of Pittsburgh's outreach director, Rabbi Sruly Altein, who moderated the re-enactment, noted that the dispute over the menorah was different than the other Jewish controversies he has been lecturing about over the past six weeks, "This course on Great Debates has been a fascinating insight into past debates. But here we have a great opportunity to hear directly from those who originally debated the contentious issue."