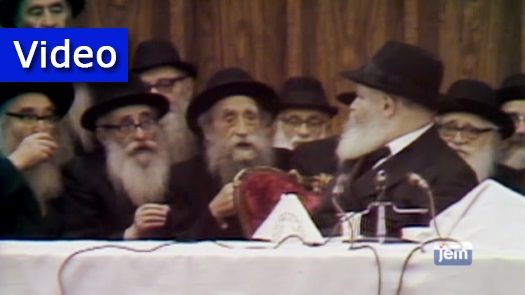 JEM Restores Film of Historic 1980 Farbrengen
Each year, as guests would arrive from all over the world to spend the month of Tishrei with the Rebbe, a special Farbrengen would be held in preparation for Rosh Hashana.
With thousands of Chassidim packed inside 770, as well as the thousands more gathered around telephones and speakers spread throughout the world, all would eagerly listen, finding inspiration in the Rebbe's message to carry through the upcoming year.
The farbrengen to usher in the year 5740 (תשמ"א), however, was particularly memorable. On top of the growing numbers that would come each year to spend the month with the Rebbe, as a Hakhel Year, it drew an unprecedented crowd of Chassidim to 770.
With the main Shul packed to the rafters, they listened intently as the Rebbe, through beautiful analogies, expounded on the very purpose of a Jew's existence, explaining how to refocus our senses and renew our sense of mission.
After much work, JEM has announced the release of this fully restored video of the Farbrengen from Erev Rosh Hashanah 5741. The three hour DVD is translated into multiple languages, and numerous playlists are included to accommodate the various types of viewers.
The DVD can be purchased by clicking here.