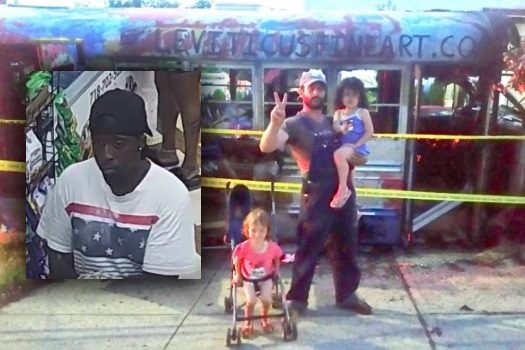 Artist Lev Schieber stands in front of the burnt bus with his children. Inset: The suspect.
from VIN News by Sandy Eller:
Ten days after an unidentified man torched a well known Crown Heights "mitzvah bus" police have released clear video footage of the suspect and are turning to the public for assistance in the case.
The newly released footage shows the face of the man who is believed to have set fire to the iconic mini bus wearing a white t shirt decorated with in a design that is reminiscent of an American flag.
The vividly painted bus belonged to artist Lev Schieber and was parked on Troy Avenue between Maple and Midwood streets when it was set on fire just before midnight on June 26th.
A Go Fund Me campaign started by Schieber said that the bus was completely destroyed in the fire.
The artist used the bus both for transportation and as a mobile art studio and Schieber estimated that $1,000 in tools, children's bicycles, car seats, bicycle helmets and other artwork were destroyed in the blaze.  The bus had been also used as the backdrop for a Benny Friedman music video about Jewish pride that garnered more than 2,700,000 YouTube hits.
In a Facebook post, Schieber said that one of his original pieces, a painting by of a Jewish man being harassed by Nazi soldiers that has been displayed in local art shows and was stored under a table, somehow managed to escape the fire.
Police said that the incident is being investigated as a hate crime.
Anyone with any information is asked to contact the Crime Stoppers Hotline by phone at 800-577-TIPS, by text at 247637 (CRIMES) and then entering TIP577 or online at www.NYPDCrimeStoppers.com.