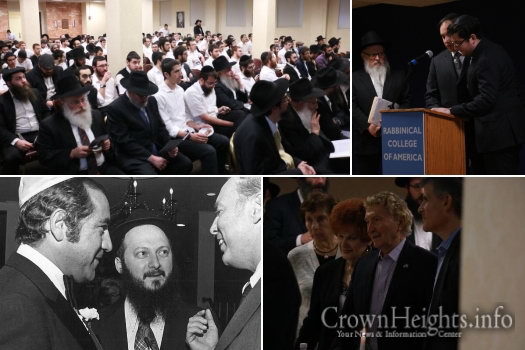 This Sunday marked the passing of a historical figure: David T. Chase. Fittingly, David's children and grandchildren chose this special day to visit the Rabbinical College of America in Morristown. They selected David's first Yahrtzeit as an appropriate time to bask in the beauty of the campus that bears their father's name, and to participate in a memorial ceremony.
The entire student body, Faculty, members of the Board of Trustees, community members and Shluchim from throughout the state gathered to pay tribute to Mr. Chase's life of resolve and dedication.
Rabbi Moshe Herson, Dean at the Rabbinical College, opened the memorial by sharing some of David's history. As a Holocaust survivor, David came to America with nothing – save the determination to rebuild his life and the Jewish community. Rabbi Herson shared David's first encounter with the Rebbe, which eventually led to the purchase of the current campus in Morristown.
Mr. Mathew Oshman, Trustee at the College, represented the Board of Trustees over which David presided as Chairman for many years. He admiringly described David's drive for success, and how he served as an inspiration to all who had the good fortune to work with him.
In a memorial video tribute, Senator Joseph Lieberman shared his memories of David and his love for many causes, "none more than the Rabbinical College."  In the video, Senator Lieberman repeated his statement that "the Rabbinical College of America is the West Point of the Lubavitch movement", preparing the leaders for tomorrow.
The video showed some excerpts of David's unique relationship with the Lubavitcher Rebbe OBM, and the trust that the Rebbe publicly placed in him.
Rabbi Mendy Herson, Associate Dean of the College, described his childhood memories of the unwavering support David gave his father, as they linked arms to grow the institution and strengthen the Jewish community. Rabbi Mendy then described the RCA's global impact, as the training ground for so many Shluchim, and introduced Rabbi Meir Kessler, an RCA alumnus and Shliach in Florida.
Rabbi Kessler spoke of his work supporting people in their struggles with addictions, and how the RCA instills its students with the value of other-centeredness and empathy.
David's son Arnold spoke on behalf of the Chase family, reflecting on David's life of benevolence and kindness to all. Arnold also focused on his father's indestructible faith in G-d, despite all the challenges he faced. No matter the particular difficulty that lay before him, David always expressed his trust that G-d would make it turn out for the best.
Two of David's grandchildren, William and Landon, recited a Psalm in his memory, which was followed by the memorial prayer – Kale Moleh Rachamim – sung by a member of the faculty, Rabbi Avrohom Hersh Levin.
Rabbi Moshe Herson and Arnold Chase chanted the Kaddish to conclude a powerful tribute to a towering personality, David T. Chase.