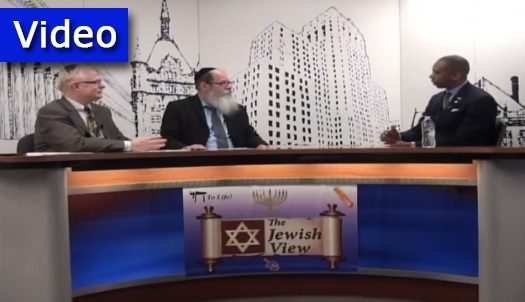 Video: Shliach Interviews Crown Heights Assemblyman
Rabbi Nachman Simon, Shliach to Delmar, a suburb of Albany, interviewed New York State Assemblyman Walter Mosley, whose district includes parts of Crown Heights, for a TV talk show called 'The Jewish View,' which he co-hosts with Marc Gronich.
Mr. Mosley talks about his struggles living in the high rent district of Crown Heights. He reveals that he lives in government-subsidized housing, and that he is a single parent during the week, while his wife lives in New Jersey working in the medical field.
They also talk about dwindling interest in Jewish ceremonies at the Capitol, such as the Rebbe's birthday commemoration in March and a Tu B'Shvat ceremony in January, over the past few years since there was a change of leadership in the Assembly with the resignation of Speaker Sheldon Silver.
They talk about the state budget and the measures that were in the $153 billion spending plan that were issues pushed by lobbyists for the Jewish community. They also touch on anti-gun violence legislation, which leads to a poignant personal story by the assemblyman.