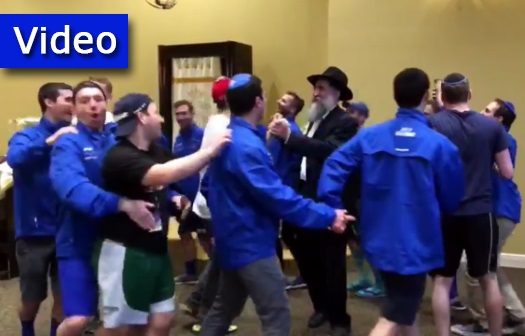 Video: Hockey Team Dances with Shliach
The Yeshiva University Maccabees, currently in Fort Myers for the National Hockey Tournament, visited the Chabad Center of Southwest Florida on Yud Aleph Nissan, where they were greeted by Shliach Rabbi Yitzchok Minkowicz.
The Maccabees are spending the week in Fort Myers, Florida, for the National Hockey tournament. They came by the Chabad house for a late Thursday Torah reading, Mincha and Mariv.
Between Mincha and Mariv they asked the Shliach to inspire them, so Rabbi Minkowicz took the opportunity to Farbreng with them in honor of the Rebbe's Birthday.
Rabbi Minkowicz shared some stories of the Rebbe and his life on Shlichus. The team then began singing the Tzemach Tzedek's Niggun, and broke out into a spontaneous dance with Rabbi Minkowicz.
They were very inspired and uplifted, and told Rabbi Minkowicz that they would use that niggun before their next game.