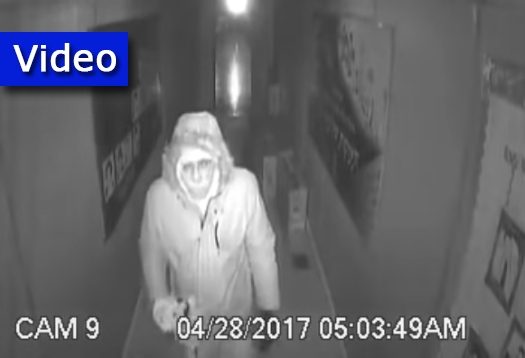 by Sandy Eller – VIN News
Lakewood police are on the hunt for a pair of burglars who made off with a safe containing a sefer Torah that is estimated to be worth $70,000.
Rabbi Chaim Zev Edelman, menahel of Cheder Toras Zev, said that the theft took early place Shabbos morning, and disputed reports issued by the Lakewood Police Department which said that the thieves entered the building through an unlocked door.
"They came in through a window, we can see it in the video footage," Rabbi Edelman told VIN News, noting that the doors to the building were locked..  "There are scuff marks next to the window from them trying to get the window open."
Surveillance video released by the yeshiva shows two men dressed in light colored jackets and pants, wearing dark shoes and gloves, deliberately trying to hide their faces from the security cameras, although one image captured by the camera shows one of the men to be light skinned and wearing glasses.
The safe containing the sefer Torah is weighed down with sandbags and was securely positioned atop a platform.  Rabbi Edelman said that the two thieves spent approximately 45 minutes to an hour in the shul, presumably attempting to remove the sefer Torah from the safe, finally taking the entire safe with them when they left the building.
The thieves seemed to know what they were looking for, observed Rabbi Edelman.
"You can see that one of them had straps in his hands," said Rabbi Edelman.  "They came with tools and were clearly ready to take the safe with them.  They knocked the whole safe down and then took it out and once they are outside the shul the footage starts again and you can see them shlepping the safe down the hallway."
The stolen Torah was the only one in the yeshiva, which had to borrow a sefer Torah to use this morning.
A $5,000 reward is being offered for the return of the sefer Torah or any information that leads to its return, said Detective Lieutenant Gregory Staffordsmith of the Lakewood Police Department.
Anyone with any information about the theft is asked to call the Lakewood Police Department at 732-363-0200.