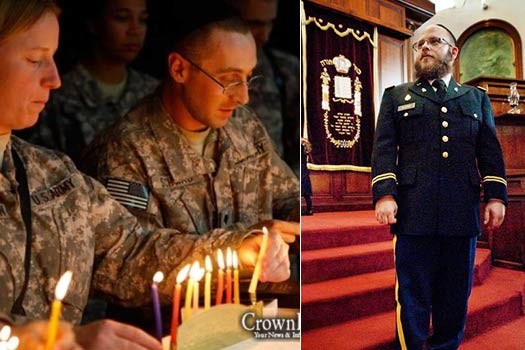 Solidres lighting menorahs. Right: Chaplain Rabbi Mendy Stern.
For the second year in a row, U.S military service members stationed around the world will join together virtually to celebrate Chanukah via live video broadcast tonight, Wednesday evening.
The event will be broadcast live via the military's defense conferencing service that will enable Jewish troops around the world to join and actively participate. The service will be rebroadcasted to the public through Chabad.org's Jewish.tv platform and will be available for live viewing here on CrownHeights.info.
"There are so many troops without a Jewish chaplain to help them celebrate the holidays, so this helps to connect us all so everyone have a joyous holiday," said 35-year-old Army Chaplain Rabbi Mendy Stern, one of nine Jewish chaplains in the U.S. Army.
"Even if they are alone—the only Jewish person in their location—they can still tune in and participate," said Stern, who lives with his family on base. "For many servicepeople, morale drops around Chanukah time because holidays are associated with family and time spent together. This broadcast will help them celebrate in a more joyous way, boosting their morale and making it somewhat better for them."
The 45-minute program will consist of explaining the meaning of Chanukah, hearing remarks from the base commander, and lighting and showcasing unique military-related menorahs. The menorah at Fort Leonard Wood, for example, was a gift from retired Chaplain Jacob Goldstein, and is made from cannon shells that were used in the battle of Grenada. This year will be the fourth time it is lit. Another location will be tuning in and lighting a menorah made from rockets that were logged against the southern Israeli town of Sderot just under two years ago.
"This is our way of utilizing elements of war for the sake of peace," said Stern, who moved in 2011 from Brooklyn, N.Y., to become a chaplain. "We're brightening the world this way. We're gathering together on a mass scale to show Chanukah's message of light overcoming darkness. Especially in such a volatile time in the world, this is an opportunity for Jews all over to show solidarity with the message of Chanukah—the message of freedom of religion."