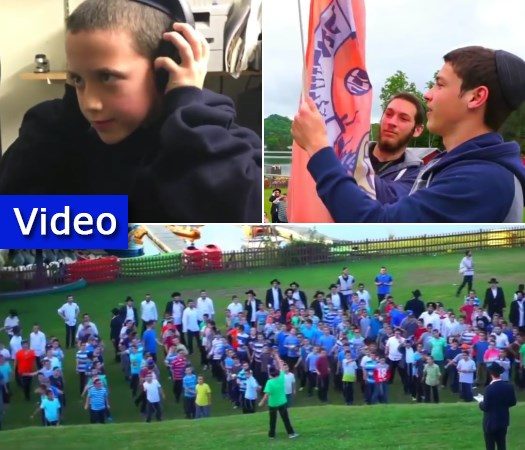 After an amazing summer at Camp Gan Israel Montreal 5776, several staff and campers got together and recorded an "oldie but a goodie" camp song, turning it into a nostalgic music video.
Directed by staff member Mendy Felberman, and with the help of camp photographer Mendy Konikov and Yossi Cohen studios, they put together a camp music video to get a little feel of the strong connection that every camper and counselor has towards camp, the inspiring, fun-filled and lesson-filled times they spent together.
The song is "Absurd how the time flies," to a tune originally sung by Avraham Fried called Tzion (album my fellow Jew), with the camp lyrics written by Avi Webb in the summer of 5762.
"I chose this song specifically, because when I was a camper, not so long ago, I felt very connected to this specific song. It described my feelings towards camp and towards my counselors," said Mendy Felberman.
The vocalists were handpicked by numerous staff members, they were chosen specifically for their mellow voices; campers Zalmy Hirsch and Shraga Telsner.
There will be a reunion for all divisions of CGI Montreal on Thursday, 23 Cheshvan, November 24th, at 6:30 – 8:00pm. Location: Bnos Menachem, 739 East New York Avenue between Albany and Troy. Featuring amazing in-house entertainment and a sneak preview of the camp video. Pizza will be served. Please RSVP at montrealreunion@gmail.com or text 929 293 8657.
Lyrics:
Absurd how the time flies along its sacred road
Leaving behind only memories of old
And now, as I leave camp, I feel like I just came
I can feel no sorrow and I can feel no pain
The things that I've leamt here embedded in my mind
Helping me to overcome the obstacles I'll find
At home and in school, I will follow in your ways
I'm the Rebbe's child, I'll know that all my days
The learning, the playing, the stories late at night
Thinking of the Rebbe until the morning light
They'll keep me and guide me throughout the year to come
They'll help me do the actions that I've leamt must be done
Camp Gan Yisroel, my home away from home
I can leave you knowing a new man I've become
Camp Gan Yisroel, my home away from home
Your inspiration helps me to never feel alone