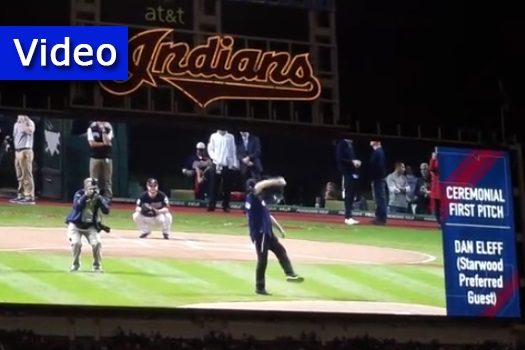 In what could be the most historic baseball game in decades, a Lubavitcher Chosid, Rabbi Daniel Eleff of Dansdeals.com, threw out the ceremonial first pitch at game seven of the 2016 World Series in Cleveland, Ohio, with flying Tzitzis.
Eleff, a credit card points and travel deals expert, has amassed millions of miles and credit card points from sign-up bonuses over the years, and that is how he managed to be the highest bidder for a Starwoods Hotel competition that auctioned off the opportunity to throw out the ceremonial pitch at the 2016 World Series. The historic opportunity cost him over 1 million Starpoints. Each Starpoint has the value of at least 2 cents per point- which makes this a total value of over $20,000 that he could have used on free trips or hotels.
The Chicago Cubs went on to win the game, ending a record 108-year drought and making baseball history.