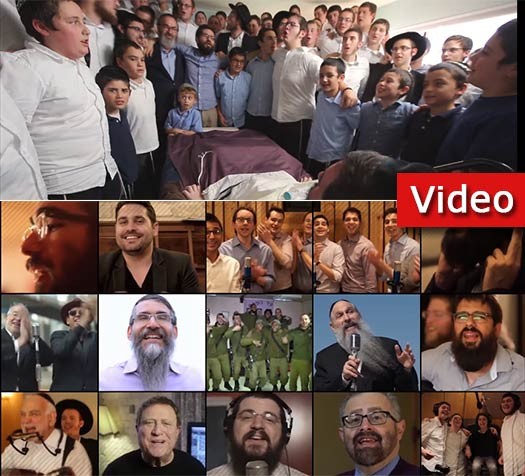 Before his diagnosis of ALS, Rabbi Yitzi Hurwitz wrote and composed a song titled "Shine a Little Light", an upbeat and inspirational song which was left and forgotten on an old memory disc, after being recently found, it was brought to life like never before. The song was performed by 15 leading artists from around the world in an amazing compilation.
Among the artists who performed in the video: Alex Clare, Benny Friedman, Yossi Green, Mordechai Ben David, 8th Day, Baruch Chait, Yehoram Gaon, Rivi and Eli Schwebel, Gad Elbaz, Eli Marcus, Avraham Fried, Yehuda Green, Brouch Sholom, Maccabeats, Issac Bitton and the Hurwitz Boys.
The video contains original vocals and guitar by Rabbi Yitzy that were recorded on his cell phone in 2008 and is played in the beginning and end of the video.
The video was produced and directed by Chaim Marcus.
Lyrics:
Can't you see
I'm trying to be
All that you
want of me
But it's so cold now
It's so dark here
What could I do
It's not very clear
Chorus
Shine a little light
Show us the way
Lead us to
a brighter day
Shine a little light
Show us the way
Lead us to a brighter day
If I'm a little light
You're a little light
Together we are
So very bright
A little light here
A little light there
See the smiles
It's so very clear
Chorus
When we stand together as one,
there's nothing that we cant do
so lets lead the way,
to a brighter day
and the whole world will join along
We can bring a brighter day
for everyone,
it's only up to me and you
we can see it, we all believe it,
so let us shine our light right now..
Chorus
Shine a little light
Show us the way
Lead us to
a brighter day
Shine a little light
Show us the way
Lead us to a brighter day
Behind the Song: