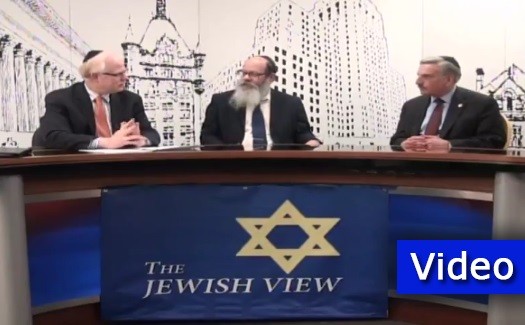 On 'The Jewish View,' a cable TV talk show, Rabbi Nachman Simon, Shliach to Delmar, a suburb of Albany, along with co-host Marc Gronich, interviewed New York State Assemblyman David Weprin (D-Queens), who called for the suspension of state funds for the Students for Justice in Palestine at CUNY.
David provided them with the breaking news that he and Assemblyman Dov Hikind (D – Midwood, Brooklyn) are calling on CUNY Chancellor James Miliken to suspend the group known as Students for Justice in Palestine, a student organization with more than 126 chapters at American universities. The group receives funding through student activity fees and CUNY is funded, in part, from the state budget.
They also went through several measures David is sponsoring and how his influence among the Assembly ranks is increasing. They spoke about Preet Bharara's claim that rank-and-file legislators were enablers for those lawmakers convicted of corruption. David said Preet, the U.S. Attorney who prosecuted many of these cases, is naive to think that is the case.