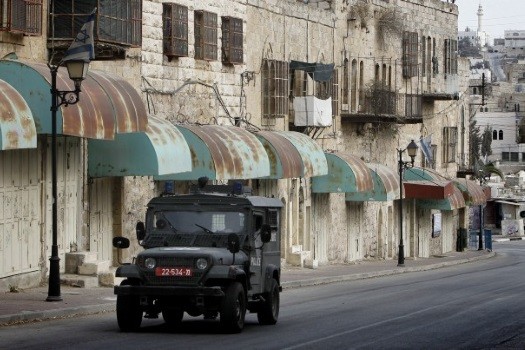 Illustration photo: IDF Jeep in Chevron.
Two Stabbing Attacks in Chevron
The holy city of Chevron was the scene of two separate knife attacks against Israeli security forces this morning, Thursday, resulting in the shooting deaths of both Palestinian terrorists.
In the first attack, a Palestinian stabbed and wounded an IDF soldier on the road between the Israeli settlement of Kiryat Arba and the Me'aras Hamachpela (Cave of the Patriarchs) in Chevron.
The soldier sustained injuries to his head and upper body.
Despite his injuries, the soldier chased the attacker, who then tried to stab a border policeman at the scene. Another Border Police officer standing nearby shot and killed the knife-wielding assailant.
The young victim was immediately treated at the scene by IDF medics, and then transported to the hospital by military vehicle for further treatment. He is listed in light to moderate condition, and is expected to recover.
Just hours later, a Palestinian terrorist armed with a knife was shot by security forces after attempting to stab an Israeli in the Beit Hadassah complex in Chevron. The assailant was shot and killed. No Israelis were injured in the attack.