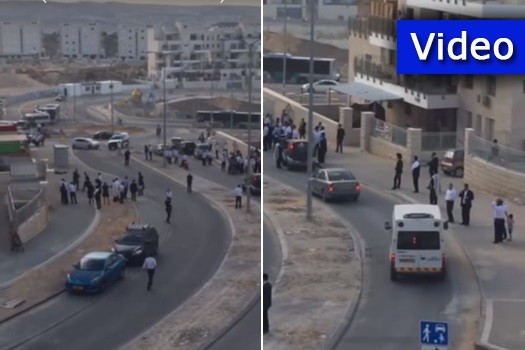 Two Arab terrorists stabbed an Israeli man on Thursday in the Ultra-Orthodox town of Beit Shemesh. Both attackers were shot by security forces. This incident was followed by the attempted stabbing of an Israeli soldier in Chevron a short while later.
Both attackers in the Beit Shemesh incident were shot and seriously wounded by police who witnessed the attack, which occurred in the town's main bus station. The victim, a 25-year-old Jewish man, was lightly wounded in the attack.
In a separate incident a short while later, a terrorist attempted to stab an IDF soldier in Chevron. The intended victim did not sustain any injuries, and the attacker fled the scene.
These incidents are the latest in a wave of near-daily attacks on Israelis by Palestinian terrorists. Ten Israelis have been killed over the last month, mainly in stabbing attacks. On the Palestinian side, 47 people have been killed, 26 of them identified by Israel as attackers, the others killed in clashes with Israeli forces.