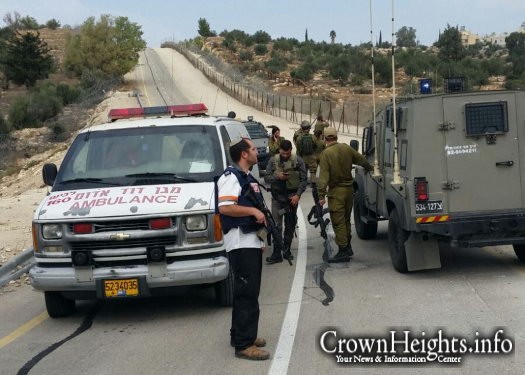 Today, Tuesday, a Palestinian terrorist drove his vehicle into a group of Israelis near the Israeli settlement of Gush Etzion in the West Bank. The attack follows two previous attacks that occurred in the West Bank today: an Israeli citizen was hit by a truck and killed after his car was pelted with stones, and the attempted stabbing of an IDF soldier – both of which occurred near Chevron.
Stoning Attack
According to an initial report by security forces, Palestinians hurled rocks at an Israeli man's car near Chevron. He stopped the vehicle, got out, and was struck by a truck.
Israeli media identified the man as Avraham Asher Hasno, a resident of nearby Kiryat Arba.
According to Palestinian media reports, the Palestinian driver whose vehicle struck the man turned himself into the Palestinian police in nearby Daharia, in the South Hebron Hills, claiming that it was an accident and that he had not intended to hit the man.
Stabbing Attack
Later this morning, a masked Palestinian terrorist approached a checkpoint near Negahot in the Southern Hebron Hills area. He was detected by an IDF commander, who began approaching him. The terrorist then tried to stab the officer, succeeding in scratching his hand. The terrorist was shot and killed.
Vehicular Attack
A Palestinian attacker drove his car into a group of Israelis standing on the side of the road near the settlement of Gush Etzion, injuring a soldier and a civilian. He then jumped out of the vehicle and began stabbing people with a knife, before he was shot.
Both victims – one in his 20s and another in his 30s – were lightly hurt in the incident.