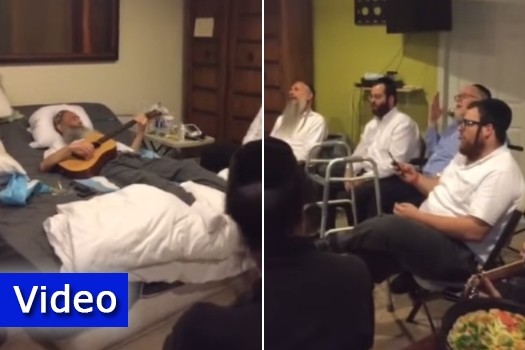 Video: MBD and Friends Sing for Yossi Piamenta
Last week, a group of Jewish singers, including the legendary Mordechai Ben David, visited famed Jewish guitarist and singer Yossi Piamenta, who is battling a dreaded illness and needs a Refuah Sheleima, and made a Kumzits for him at his bedside.
From Yeshiva World News:
Yossi Piamenta has been battling a dreaded illness since being diagnosed more than a year ago, as thousands of his fans continue to pray for his recovery.
Yossi has been Misameach thousands upon thousands of Chasanim and Kallahs at weddings in the past 35 years. His music has touched many of us, and many of his songs are played at weddings every night.
Never the one to say no, Yossi would always drop all he was doing and run to hospital or private home to cheer up those suffering from illness and disease. May his amazing acts of chesed he did quietly for so many years serve as Zechus for his Refuah Shelaima.
Please continue to be Mispallel for Yosef ben Genia.