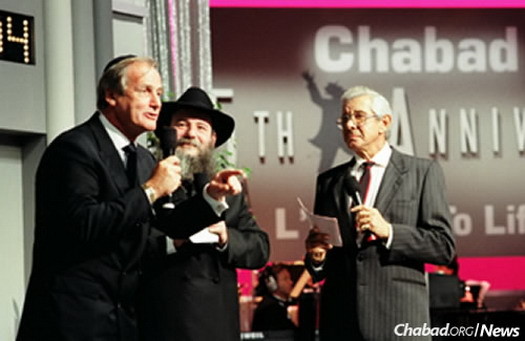 Jerry Weintraub, left, with Rabbi Boruch S. Cunin, director of Chabad West Coast Headquarters, and entertainer Jan Murray at the 1989 Chabad telethon.
Friend of Chabad Jerry Weintraub Passes Away at 77
Jerry Weintraub, the iconic entertainment promoter and philanthropist who for more than thirty years volunteered his time and professional expertise as producer of Chabad of California's annual telethon, passed away July 6 in Santa Barbara. He was 77.
Born in the Bronx, N.Y., to Rose (Bass) and Samuel Weintraub, Weintraub entered the "show biz" shortly after serving in the U.S. Air Force. He made his mark on the entertainment industry by innovating large stadium concerts and went on to manage an impressive string of successful live music productions and films that were box-office hits.
A proud and involved Jew who described himself as "spiritual," Weintraub championed a number of humanitarian and educational causes, both in his home state of California as well as abroad.
He was well known for Chabad of California's annual telethon, which he the produced and chaired since 1980, work that he said gave him more satisfaction than the Hollywood hits he produced.
Weintraub ascribed his inspiration for his philanthropic work and personal spirituality to the Rebbe—Rabbi Menachem M. Schneerson of righteous memory—whom he had met on a number of occasions. "I do not go a day without thinking about the Rebbe," he said.
"Jerry was a dear and personal friend," recalls Rabbi Levi Cunin, who co-directs Chabad of Malibu with his wife, Sarah. "[who] served as an inspiration to me and many others. It was less than three weeks ago, on the 21st anniversary of the Rebbe's passing, that Jerry joined us at Chabad of Malibu for a Shabbat dinner to share his amazing personal experiences with the Rebbe."