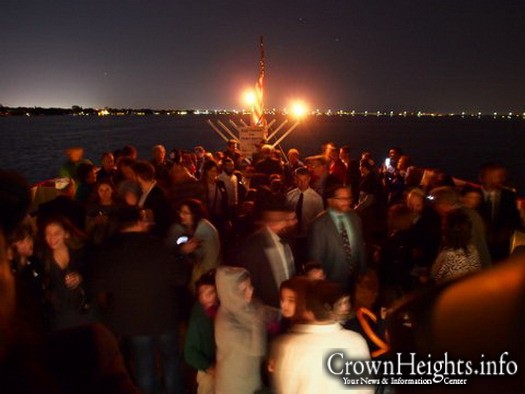 For the past 20 years, Shluchim Rabbi Yitzchok and Nechamie Minkowicz celebrated Chanukah at the upscale Bell Tower Shops in Fort Myers, Florida. However, this year, two months before Chanukah the mall notified them that due to new management and renovations they will not be hosting their  Chanukah event this year.
Rabbi Minkowicz did not know what to do, but of one thing he was certain – that he would not despair, rather he would create a bigger and better event so that the message of Chanukah would be felt even stronger and with greater light and joy.
The Shluchim decided to look for a boat to do a Chanukah cruise, but the largest boat they found could hold only 90 people. Not wishing to settle, they kept looking and soon found a 3-story cruise that could accommodate up to 450 people – complete with a dance floor and space for dinner and entertainment.
With the help of their daughter Chana Minkowicz and her friend Malka Forshner, the Shluchim created a marketing campaign and prepared a great program for the adults and children, including a photo booth, clown, face painting, magic show, great music by Dr. Laz and a full gourmet Dinner with Sushi and drinks.
The highlight of the Chanukah Cruise was the lighting of the Grand Menorah on the rooftop of the ship by Dr. James Rubenstein and Dr. Daniel Dosoretz, followed by a choir comprised of students of their very own Maimonides Hebrew Day School. The songs were taught to the children by Rabbi and Mrs. Simon and Sheina Jacobson, Shluchim in Punta Gorda. Also on the cruise were Shluchim Rabbi and Mrs. Yossi and Rivki Labkowski, as well as Rabbi and Mrs. Mandy and Luba Greenberg of Bonita Springs.
As everyone left the boat, they received Chanukah Menorahs and gelt by Rabbi Minkowicz and the Bochrim from Miami who had helped make the event so special.