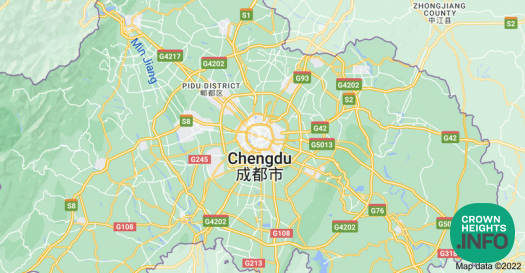 Weekly Dvar Torah: My Personal Inspiration From a Young Shliach
This week approximately six thousand Shluchim from all corners of the world will be gathering for the annual Kinnus Hashluchim, the international conference of Shluchim, which will take place in Crown Heights, the capitol of Lubavitch.
I am in awe of all these dedicated men and women who give up literally everything. They give up their personal lives just to be able to do what the Rebbe, the sender of all these Shluchim, wants them to. To reach out to every single Jew wherever he may be, and help him materially and spiritually, to make this world a better place.
In their honor I want to share a personal experience that touched me to the core of my soul.
Dovi is a Shliach in Chengdu, China.
During the outbreak of Covid-19 in 2020, he was forced to leave China with his family. They were stuck in America where they stayed with Dovi's in-laws for many months. Since they were not allowed to return to their post in Chengdu for many months.
When the holiday month of Tishrei approached, Dovi reached out to me, he wanted to rent an apartment for his family in Crown Heights, the destination for every Lubavitcher to spend the month of the holidays. I happily obliged, and I did my best to accommodate Dovi and his young family.
When Dovi moved in, he told me how relieved he was to have his own spacious apartment. He was so happy.
"I and my family are so comfortable here, thank you for assisting me in finding some peace of mind." We were both looking forward to a very happy comfortable month of holidays.
Two days later Dovi calls me and says:
"Yossi, please find someone else to take over this apartment, I'm not comfortable staying here for Tishrei. I am a Shliach, and I have to be busy helping Jews celebrate the holidays.
"If I am unable to be in my city, in Chengdu, I will talk to a Shliach in Florida or elsewhere, and I'll spend my time there doing Shlichus, as I would in Chengdu.
"I don't want my money back, but I need my peace of mind to do what I am meant to be doing, even if under different circumstances and in a different place."
I was shocked; there were many candidates to take the apartment, so I wasn't concerned about being stuck with an empty place. But I couldn't understand why Dovi wouldn't want to spend the month as a guest of the Rebbe, isn't this the dream of every Lubavitcher to spend the holidays by the Rebbe?
I tried to argue with Dovi, I explained to him that even if under normal circumstances he would never have come to New York for the holidays, this case is different.
"By divine providence you ended up here in Crown Heights, it's like the Rebbe invited you and your family to be his guests for Tishrei.
"Why not take advantage of a once in a lifetime opportunity? It's not like you chose to be here, it is Hashem who orchestrated by divine providence that you and your family should have a 'normal' month of holidays by the Rebbe."
Dovi wouldn't hear of this. "I am the Rebbe's Shliach and I can't afford myself such personal luxuries," Dovi concluded; "I must find myself a Shlichus for Tishrei."
I was blown away.
I have known Dovi for over a decade, since he was a young boy in Yeshiva here by the Rebbe, I got to love him, and though he is about the age of my children, we really connected and became good friends.
Dovi does not come from a Lubavitch family, so it was not his education or family tradition that led him to Lubavitch. He was attracted to the Rebbe as a teenager, and now he is one of the most firebrand Shluchim of the Rebbe, to him it's only natural, it became part of his DNA.
Such are the young Shluchim, those who never got to meet the Rebbe in person, but their love and devotion to the Rebbe surpasses any possible description in words. They don't look for fame, they don't look for honor, they don't look for financial reward. They just want to do what the Rebbe wants them to do, to make the world a better place, and to prepare the world for Moshiach.
Who could have imagined 20-30 years ago that we will have such children? Without exception everybody predicted that without the Rebbe's presence and charisma, there is no future in Lubavitch.
Well, Dovi and his colleagues proved everybody wrong, the Rebbe is present, and he is alive and well, and the Rebbe is continuing to educate and inspire the young generation like nobody else.
And we shouldn't lose sight of the fact that most of the Rebbe's Shluchim today, about 4000 of them, became Shluchim only over the last 30 years, after Gimmel Tammuz!
Thank you Rebbe for being there for us, and thank you Shluchim who keep the Rebbe alive. You are the ones who will surely bring Moshiach!
Have an inspirational Shabbos and make the world a better place,
Gut Shabbos, and Happy Kinnus
Rabbi Yosef Katzman