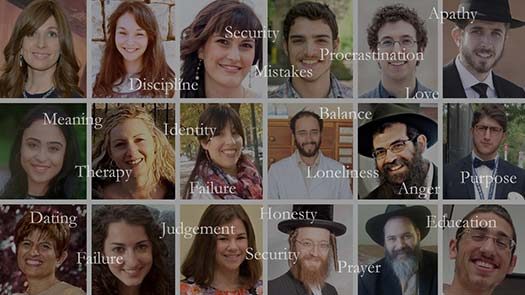 The Meaningful Life Center, directed by Rabbi Simon Jacobson, Offers $10,000 for Best Essay and Launches New Student Track
In honor of the Alter Rebbe's 205th yahrzeit on 24 Teves, the Meaningful Life Center (MLC) has launched the Fourth Annual MyLife: Chassidus Applied Essay Contest, awarding $10,000 to the winning essay which applies a concept in Chassidus to solve a contemporary life issue or challenge.
Contest details can be found online at www.meaningfullife.com/contest.
Sponsored by the Meromim Foundation, the contest — open to men and women ages 14 and up — welcomes essays in English, Hebrew and Yiddish. After receiving over 1500 submissions in previous years, this revolutionary initiative, conceived by Rabbi Simon Jacobson, has blossomed into an international movement that is inspiring and encouraging Jews the world over to transform lives with Chassidus.
Due to the significant number of essays submitted by students in past years' contests, with some of them being top winners, this year, MLC is adding a new track exclusively for students ages 14-21. While still eligible for the top prizes, the winning student essay will receive $500. MLC is working hand-in-hand with mosdos across the world on the new student track, encouraging schools to make Chassidus Applied essay writing part of their curriculums.
Rabbi Simon Jacobson explained, "We've worked hard to ensure that the contest would be a level playing field where anyone can win. Indeed, we are proud of the fact that previous years' winners were not renowned mashpi'im or leaders, though they competed directly with Chassidic scholars and professionals, which testified to the contest's unbiased nature. In that spirit, many students have wondered whether they can compete directly against more proficient contestants, including their very own mentors. This is why we added a new track exclusively for students. They are our future and we need to do whatever we can to empower and motivate them in Chassidic methodologies and life skills to help shape the next generation."
Rabbi Jacobson urges everyone to enter. He said, "This is the only platform where people are being financially rewarded for applying Chassidus and presenting its indispensable secrets to living a successful, happy, and meaningful life."
The grand prize winner will receive $10,000; the second-place winner $3,600; the third-place winner $1,000, and a student winner $500. Essays may be written in English, Hebrew, or Yiddish and will be judged blindly (the judges will not know the identity of the entrant when reading submissions) by a panel of distinguished Torah scholars. All submissions are due by 11:59AM on Friday, February 16 (Rosh Chodesh Adar). Winning entries will be announced on or around March 27 (Yud Aleph Nissan) and publicized widely by MLC. Contest rules and guidelines can be downloaded and essays may be submitted at meaningfullife.com/contest.
Past years' winning essays can be viewed at www.meaningfullife.com/mylife. Watch the acclaimed MyLife: Chassidus Applied podcast where Rabbi Jacobson, celebrating the beginning of its 5th season, announced the contest.
MLC is dedicated to presenting Chassidus as a blueprint for life. "The Rebbeim invested their entire lives to teach us Chassidus. They left us with hundreds of volumes of treasures—a comprehensive blueprint of our spiritual DNA and the building blocks of existence. The world's best kept secret. Our ultimate goal is that MyLife:Chassidus Applied will make a significant contribution in fulfilling the mission of the Rebbeim: Bringing Moshiach through spreading the wellsprings of Chassidus outward!"