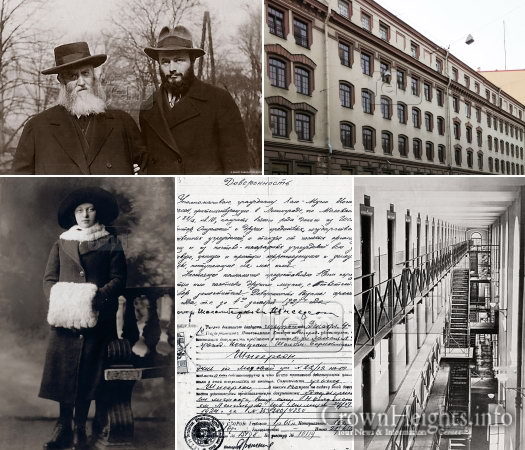 As we mark 90 years since the liberation of the sixth Lubavitcher Rebbe from Soviet incarceration, a new book by Kehot Publication Society provides hitherto unknown details of the role in the saga played by his daughter, Rebbetzin Chaya Mushka, and eventual son-in-law, the Rebbe, Rabbi Menachem M. Schneerson.
Early Years, the critically acclaimed book by Rabbis Boruch Oberlander and Elkanah Shmotkin, presents a host of critical documents pertaining to the events surrounding this historic event. These newly published manuscripts and documents include:
A 1924 power of attorney signed by the Previous Rebbe, assigning to Rebbetzin Chaya Mushka the authority to represent him, and to "receive any monies in my stead from the national bank, including its branches and divisions… from individuals and organizations and from telegraph stations. Letters regarding finances, insurance, and mail, both basic and valuable, as well as cash transfers arriving in my name [should be referred to her]…" (p. 171, 221)
This authorization, which extends for three years, is especially noteworthy, since despite the fact that the Previous Rebbe had an older daughter at the time who was already married, with the threat of incarceration over his head, he chose to entrust his affairs to his unmarried middle daughter, Rebbetzin Chaya Mushka.
The Previous Rebbe was eventually imprisoned and, after a chain of events, sentenced to exile in the distant city of Kostroma. He once again selected his middle daughter for a pivotal role, as she was chosen to accompany him into exile. The book also presents a letter by Rabbi Zalman Duchman, who was present in the Previous Rebbe's home in Leningrad at the time. This fascinating letter states the Previous Rebbe's explanation for why the Rebbetzin was selected for this role (p. 204): "the oldest sister was too sharp, and the youngest too quiet — but she, the middle one [Rebbetzin Chaya Mushka], was right for the task."
Covering the events surrounding the story of the Previous Rebbe's liberation on 12 Tammuz, (pp. 185 through 206) the book presents numerous documents detailing the actions of the Rebbetzin's eventual husband – the Rebbe – in the pivotal days of the Previous Rebbe's imprisonment, and his efforts to liberate his future father-in-law.
In the words of Rabbi Duchman, quoted in the book (p. 202), "If not for the Rebbe, we would not be celebrating this festival of liberation!"
After an incredibly successful launch, the second printing of Early Years has arrived! Order your copy now at jemstore.com.