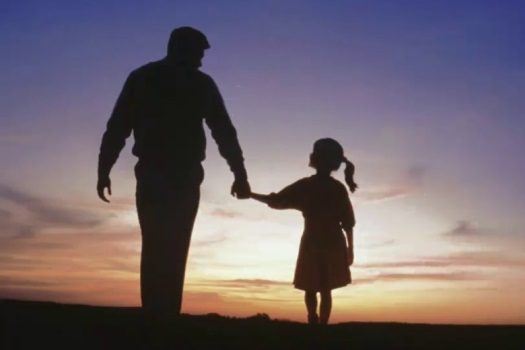 Weekly Story: You Were Not Abandoned
by Rabbi Sholom Avtzon
Last month I posted a story titled, "If the Rebbe said so, It is so." A woman by the name of Malka (in order to protect her privacy I will keep other details unpublicized) noted that she was intrigued by the title, as she knows from personal experience how true that statement was, and therefore posed a question on what I wrote. After answering the question, she then revealed to me her personal story and connection to the Rebbe.  With her permission, in honor of the Rebbe's 115th birthday this upcoming Yud Aleph Nissan, I am sharing this most phenomenal story.
She related the following:
***
Unbeknown to me, I was adopted when I was an infant by religious Jews as their only child and was given a wonderful Jewish education. At that time, the records of adoption were sealed and my origin and birth parents were unknown and impossible to be discovered or revealed to anyone. When I was soon to be 12 years old (i.e. shortly before my bas mitzvah), my parents informed me for the first time that I am adopted. After much shock, we went to a great Rabbi (I don't recall who it was) who explained that I needed to agree to become Jewish since my origin was unknown. I knew enough from my Jewish education that this was the completion of a conversion process.
I told the Rabbi that since it is my choice, I am not interested in being Jewish or going through the conversion ritual. My adopted parents, whom I still love greatly even after their passing, were visibly upset and told me that if I do not convert, I am assumed to be a non-Jew. I adamantly replied that it was fine with me, (after all that is how Hashem created me.) I stood firm in my decision, especially as I was extremely angry about not being told about my adoption until then, the possibility that I was not even Jewish, thus living a life that wasn't meant to be which was false to my origins, and that my birth parents abandoned me. My adopted parents and the Rabbi tried hard to convince me, but I was not changing my mind. Finally, the Rabbi suggested to my parents that we go visit the Rebbe and ask his advice.
When we visited him, the Rebbe spoke to all of us and then asked if he can speak to me alone. I thought it was strange, but my parents agreed to step out of the room. The Rebbe then told me that I was born Jewish from Jewish parents who truly loved me and still love me from Heaven. He stated emphatically that they never abandoned me; rather they died in a car crash. He told me that it was G-d's will (for whatever His reason was) that they died and I should be an orphan. He also told me G-d is the Father of all orphans and I am loved by Him.
The Rebbe told me that even if I don't go through the conversion process and "convert" I am still 100% Jewish, since my birth mother was definitely Jewish. He then said that I should nevertheless convert, because that is what Jewish Law dictates that one should do in these circumstances, (as there are no two witnesses that can testify that my parents were indeed Jewish, since as noted in those years the adoption papers were completely sealed). However, it does not change the fact that I am Jewish, regardless.
This was news and somewhat of a shock to me, since the Rabbi, whom I met previously with my parents, stated unequivocally that if I did not convert, I would be regarded as a non-Jew. I guessed that is Jewish Law. But the Rebbe told me that I was still a Jewess. At that time I had no understanding of the Rebbe's greatness, I just thought that he is following a lenient opinion. How was I supposed to know of his Divine ability of knowing my history in our first meeting, especially when absolutely no one else knew it?!
Then the Rebbe continued that he knows that I might not believe him and may think that it is a trick to get me to listen to my parents and remain Jewish, so he told me that if I ever go to a certain city (the Rebbe mentioned that city but once again for the sake of this woman's privacy I am omitting it), I should visit the Jewish cemetery there and say a prayer for my parents that are buried there.
The Rebbe also asked me to promise three things: to always keep kosher, to keep Shabbos, as well as to try visiting him once a year. I left his room somewhat confused, yet less angry – after all maybe my parents did not abandon me as he stated. Thus, I finally agreed to "convert", since according to the Rebbe I am Jewish anyways.
The fact that I lost my birth parents as a newborn was hard and I was struggling with it. And then just a few years after first meeting the Rebbe, tragedy struck again. In my mid-teens I lost my beloved adopted parents; it was unbearable. I became an orphan for the second time!  That's when I became real angry. I moved as far away from any Jewish life as possible – I lived in a small village that had no Jews. [see next week's story]. However, I was still able to keep my promise of keeping kosher, because that can be achieved even in a gentile village by becoming vegetarian.  I did not need to obtain meat or sea food, and in regard to fruits, vegetables, milk, and eggs, they are all kosher, as well as most packaged foods, breads, baked goods and many cheeses which come with some kosher symbols. On Shabbos, I don't cook, use electricity, nor drive. I use the Shabbos for resting, exercising, reading, and meditating.  That is the extent of my commitment to the Rebbe: basic kosher and basic Shabbos,
One year, during my annual visit, I was standing on the sidewalk in front of 770 in my usual spot. Some years as he would walk by, he would give me additional guidance concerning kashrus and Shabbos (or perhaps enhancing my observance of it, and demonstrating how one mitzvah is connected to all mitzvos.)[1]  while other years he would just acknowledge me. That year, when he was quickly walking to his car carrying a brown paper bag, he stepped down the two stairs to the sidewalk to pass by when I simply cried the word "Why?"
He recognized me right away, turned towards me, and immediately answered.  (I am not sure of the exact wording or if this is exactly what he meant – but this is what I understood), "Your birth parents were good people but through no fault of their own, they were totally secular and unobservant. Hashem is also a partner in your creation; He is also your parent. He loves you and knew your soul needed to have kosher food and Shabbos during your formative years. You were entrusted to adoptive parents who gave you only kosher food and Shabbos to nurture your soul. That is why you must keep your promise to eat only kosher and keep the Shabbos."
He then entered into the rear seat of his car and the car drove off. This entire interaction took perhaps 10-15 seconds but to me it felt like an hour.
Fast-forward many years later. I was able to get the records of my birth origin. NO ONE KNEW THIS INFORMATION BEFOREHAND. My parents were Jewish and indeed both were buried in the —— Jewish cemetery. It seems that they died on the same day in an accident when I was just a newborn. I kept my promise to the Rebbe. I still keep basic kosher, basic Shabbos, and had visited the Rebbe annually during his lifetime. I continue once a year to visit his grave in Queens and also my birth parents' graves in —–.
I visited him every year then and once a year now. I visit his grave where I cry the whole time until there are no more tears. I then leave behind the pain as a comfort settles on me with a feeling of being connected to something greater than me. I am uplifted from despair as I internalize the message that the Rebbe told me so long ago. Hashem is my parent, and even this "rebellious" daughter, is Hashem's daughter who is loved by Him and coming closer to Him by fulfilling my promise for decades.
***
In a follow up email Malka noted, "There is another side or different dimension to what we think we see and understand" – how did the Rebbe know? He knows all that is in this world AND the next world! To him it is so simple and as clear as reading a road sign. He simply identified who I am and my origin. He knew it with certainty. He knew that I was not abandoned by irresponsible parents (which is what I believed). He even knew how my parents died, where they were buried and the status of their non-observance. He also knew why G-d made me an orphan, why I was adopted by religious parents, and why it needed to be that way and no other way! He knows why G-d does what He does, and he explains it when it needs to be explained. This is not human logic nor human intelligence, but "another side or different dimension to what we think we see and understand." I don't think anyone can fully grasp the implications of the story I shared with you. It isn't a story of a "miracle". In my story the Rebbe preformed no miracles! It isn't a story of getting a blessing and it was fulfilled.  It is simply a story of a human being who has unrestricted access to the divine.
[1] Rabbi Avtzon's note: After I offered Malka some Shmura Matza for this year's seder, she replied: It's interesting that you suggested and I am adding shmura matza to my kosher food commitment. You might wonder why I agreed so easily:
That's what the Rebbe would often do. He told me one year that to make the food "fully kosher" I must make a proper blessing before eating it….another year he said that to make the blessing properly I should be washing my hands negel vasser…another year he said it is improper to eat a meal before first praying (I believe he was implying that snacks and drinks are okay but not a meal)…my main food was cooked rice which I hadn't divulged to him, but nevertheless he knew, and one year he asked which blessing I make on the cooked rice? I told him the Guide to Blessings says to make "mezonos" and he gave a VERY HUGE smile and then suggested it would be better if I made a "shehakol"…one year he said that to be fully kosher, the dishes and utensils I use need to be immersed in the river near my house… another year he noted that all food and drink on Yom Kippur are not kosher…. And another time he informed me that it is not proper to eat a meal before the Chanukah candles are lit….almost every year he kept perfecting the commitment to shabbos and kosher eating, while connecting me to additional mitzvos though them. These exchanges took no more than 5 seconds, no more than a pause while he nodded in passing.
ANYWAY, THAT IS WHY I AM ADDING SHMURA MATZA – it's part of my commitment to kosher food!
Part Two: The Time the Rebbe sent me a parcel – to be posted next week.
Rabbi Avtzon is a veteran mechanech in the United Lubavitch Yeshiva of Ocean Parkway and the author of numerous books. He is available to farbreng in your community and can be reached at avtzonbooks@gmail.com  Additionally if anyone else experienced a situation with the Rebbe, or has an insightful story to share with the numerous readers of this column, please forward it to him to be publicized in due time.