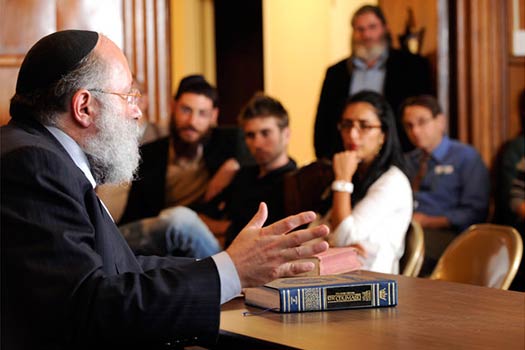 This week's edition of MyLife: Chassidus Applied with Rabbi Simon Jacobson, Episode 151, will air tonight, Sunday, here on CrownHeights.info, beginning at 8:00pm. This week Rabbi Jacobson will address the topics: How Can a Serious Person Work on Simcha? Is Peer Pressure a Legitimate Motivator to Leading a Frum Life? What is Intimacy? I'm Terrified of Open Conversations with G-d! The Sheitel and its Astronomical Price!
MyLife MP3s are available to download from the Meaningful Life Center Shop. Become a free member today and receive unlimited Mylife MP3 downloads.
As we approach the month of Adar, when we increase in simcha, I can't help wondering: Happiness – and serving G-d with joy – comes natural to a lighter, more cheerful personality. But how can a naturally somber, introverted, even darker person do the same? Must they work on changing aspects of their personality or is there a definition of happiness and a method to reach it that I'm unaware of? How should a serious person work on simcha?
What is healthy intimacy? Is there a difference between sexuality and intimacy? The modern world inundates us with its distorted version of love and intimacy. What exactly is the Torah and Chassidus perspective on this critical issue, and how does it differ from the popular opinion out there? What role does pleasure play in intimacy?
For better or for worse, many choices people make are largely influenced by their parents, peers, communities, the media, schools etc. Is there any value to one's observance of Torah and mitzvot if it is a result of peer pressure? Since G-d created us with faculties (intelligence, emotions, willpower) with the purpose of actualizing them, is there any merit in thoughtless behavioral Judaism, which does not engage our cognitive and emotional abilities?
These are among the relevant issues Rabbi Jacobson will address in this week's 151st episode of MyLife: Chassidus Applied. Other topics that will be discussed include: the astronomical prices of head coverings, the fear of talking openly to G-d, and the role of previous generations.
Rabbi Jacobson will also review the following essays submitted in this year's MyLife: Chassidus Applied essay contest: "Breaking the Wheel of Time" by Levi Avraham Kesselman, "The Truth About Me" by Bentzion Geisinsky, and "The Quest for Light" by Machluf Elkaim. These and other essays can be read online at meaningfullife.com/essays-2016.
And finally, the Chassidus question of the week: Part VI of a comprehensive series: Understanding the implications of the Kabbalistic concept of Reshimu. This week will cover the different types of reshimu, and the Rebbe's contribution to the concept.
This hour-long dose of insights is meant to inform, inspire and empower us by applying the teachings of Chassidus to help us face practical and emotional challenges and difficulties in our personal lives and relationships. To have your question addressed, please submit it at meaningfullife.com/mylife.
The topics in this Sunday's hour-long broadcast will include:
Chassidus Applied to Mishpatim, Shekalim and Mevarchim Adar
Is there any value to being religious because of peer pressure?
What is intimacy?
Sheitel: Is the price worth it?
Talk openly to G-d? That's terrifying
What did previous generations accomplish, if we're the ones who will bring Mashiach?
How can a somber person work on simcha?
Chassidus Question: Reshimu Part VI
MyLife Essays: Breaking the Wheel of Time, The Truth About Me, The Quest for Light
In what has now become a staple in so many people's lives, MyLife: Chassidus Applied addresses questions that many people are afraid to ask and others are afraid to answer. When asked about the sensitive topics he has been addressing, Rabbi Simon Jacobson commented, "I understand that the stakes are high and great care has to be taken when speaking openly, but the silence and lack of clarity on matters plaguing the community can no longer go unaddressed. The stakes of not providing answers are even higher."
The on-going series has provoked a significant reaction from the community, with thousands of people viewing each live broadcast and hundreds of questions pouring in week after week. At the root of every question and personal challenge tackled by the series is the overarching question: Does Judaism have the answers to my personal dilemmas?
In inimitable "Jacobson-fashion", the broadcast answers people's questions in simple, clear language while being heavily sourced. Each episode is jam-packed with eye-opening advice from the Rebbeim, gleaned from uncovering surprising gems in their letters, sichos and maamorim that address our personal issues with disarming relevance. Simultaneously, Rabbi Jacobson is able to crystallize a concept quickly, succinctly, and poignantly for any level of listener.
All episodes are immediately available for viewing in the MLC's archive and can be downloaded as MP3s for listening on the go.
Questions may be submitted anonymously at meaningfullife.com/mylife.