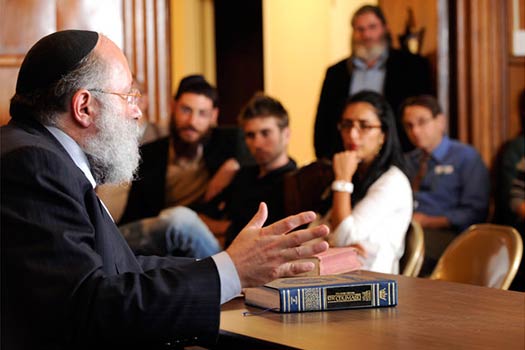 This week's edition of MyLife: Chassidus Applied with Rabbi Simon Jacobson, Episode 120, will air tonight, Sunday, here on CrownHeights.info, beginning at 8:00pm. This week Rabbi Jacobson will address the topics: What Should our Attitude be towards Those with Attitude? To What Extent Should Things be Pinned on Parental Influence? What Does Torah Say about a Second Spouse When Mashiach Comes?
Often the negative tendencies of children are explained by parental influence and genetics. In my experience, though, doing that can sometimes create a crutch for people to fall back on. Is attributing these tendencies to parental influence a good platform for beginning to correct them? Or does it justify behavior and curb responsibility and action?
When Moshiach comes, what will happen to people that remarried after losing a spouse? Who will be their spouse then?
What should I do about the one person in the crowd whose attitude makes it impossible to teach/speak? Should I simply ignore and perhaps invoke more attitude? Should I answer in a way that I know will be appeasing? In general, when conversing with headstrong people, what should our attitude be?
Rabbi Jacobson will address these relevant and misunderstood topics in this week's 120th episode of MyLife: Chassidus Applied.
Other topics that will be discussed include:
Since Torah is centered on marriage and family, where does that place singles? Is there any value to single life outside of marriage?
How can one obtain forgiveness from a person that passed away?
Rabbi Jacobson will also review the following essays submitted in last year's MyLife: Chassidus Applied essay contest: "Short but Long: Why Diets and Other 'Lifestyle Changes' Fail" by Ani Lipitz, "Educating with Soul" by R' Shlomo Rafael Barnatan, and "Chassidic Artistry" by Yisroel Aryeh Gootblatt. These and other essays can be read online at meaningfullife.com/essays.
And finally, the Chassidus question of the week: Can you please lay out the topography of Seder Hishtalshilus?
This hour-long dose of insights is meant to inform, inspire and empower us by applying the teachings of Chassidus to help us face practical and emotional challenges and difficulties in our personal lives and relationships. To have your question addressed, please submit it atmeaningfullife.com/mylife.
The topics in this Sunday's hour-long broadcast will include:
Chassidus Applied to Shelach
What does Torah say about a second spouse when Mashiach comes?
Is there any value to single life outside of marriage?
To what extent should things be pinned on parental influence?
Gaining forgiveness from someone who passed on
What should our attitude be towards those with attitude?
Chassidus Question: Can you please lay out the chronology of Seder Hishtalshilus?
MyLife Essays: Short but Long: Why Diets and Other 'Lifestyle Changes' Fail, Educating with Soul, Chassidic Artistry
In what has now become a staple in so many people's lives, MyLife: Chassidus Applied addresses questions that many people are afraid to ask and others are afraid to answer. When asked about the sensitive topics he has been addressing, Rabbi Simon Jacobson commented, "I understand that the stakes are high and great care has to be taken when speaking openly, but the silence and lack of clarity on matters plaguing the community can no longer go unaddressed. The stakes of not providing answers are even higher."
The on-going series has provoked a significant reaction from the community, with thousands of people viewing each live broadcast and hundreds of questions pouring in week after week. At the root of every question and personal challenge tackled by the series is the overarching question: Does Judaism have the answers to my personal dilemmas?
In inimitable "Jacobson-fashion", the broadcast answers people's questions in simple, clear language while being heavily sourced. Each episode is jam-packed with eye-opening advice from the Rebbeim, gleaned from uncovering surprising gems in their letters, sichos and maamorim that address our personal issues with disarming relevance. Simultaneously, Rabbi Jacobson is able to crystallize a concept quickly, succinctly, and poignantly for any level of listener.
All episodes are immediately available for viewing in the MLC's archive and can be downloaded as MP3s for listening on the go.
Questions may be submitted anonymously at meaningfullife.com/mylife
If you value MyLife: Chassidus Applied, please subscribe to our youtube channel of the same name, to help keep these videos coming and to share them with others!