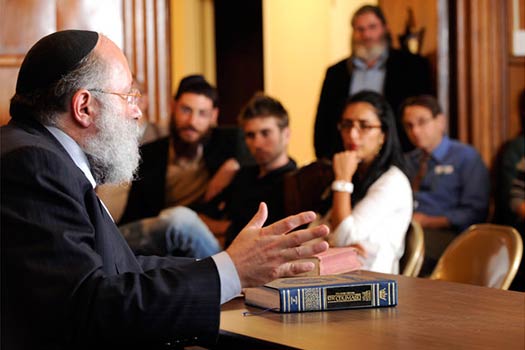 This week's edition of MyLife: Chassidus Applied with Rabbi Simon Jacobson, Episode 112, will air tonight, Sunday, here on CrownHeights.info, beginning at 8:00pm. This week, the winners of the MyLife Chassidus essay contest will be announced, and Rabbi Jacobson will address the topics: Can One be Connected Without a Rebbe? Have We Implemented the Rebbe's Vision? Has the Role of the Rebbe Changed? What Can I Practically Do to Disseminate the Sheva Mitzvos?
MyLife MP3s are available to download from the Meaningful Life Center Shop. Become a free member today and receive unlimited Mylife MP3 downloads.
This special Yud Alef Nissan edition of MyLife: Chassidus Applied, honoring the Rebbe's 114th birthday, will be fittingly dedicated to discussing matters directly related to the Rebbe. In honor of this special day this week's broadcast will also include the much anticipated announcement of the 2016 MyLife: Chassidus Applied Essay Contest winners! Hundreds of essays have been evaluated by a team of distinguished judges and have been narrowed down to the three highest-ranking. The first second and third place winners will be awarded the prize money of $10,000, $3,600, and $1,000 respectively.
We learn in Tanya (chapter 2) that a Rebbe isn't optional; it's critical. As a neshomo klolis the chayus and sustenance of the entire generation is transmitted through the Rebbe. Why then, do we see many pure Jews who aren't Chassidim and don't necessarily have a conscious connection to the Rebbe, yet seem just fine in their Yiddishkeit? Is their Yiddishkeit compromised because they don't foster their innate relationship with the Rebbe?
The Rebbe stressed the importance of spreading awareness of the Sheva Mitzvos Bnei Noach as a precursor for the coming of Moshiach. I'm involved with my local police and fire departments and wish to encourage them to keep the Sheva Mitzvos. What practical steps can I take?
Has the Rebbe's role changed today? Have we implemented the Rebbe's vision? And more.
Rabbi Jacobson will also review the following essays submitted in last year's MyLife: Chassidus Applied essay contest: "Satisfying Our Emotional Void" by Bracha Polter, "Worldly Pleasure in Chassidus" by Esther Rochel Elkaim, and "Challenge Is in the Eye of the Beholder" by Menachem Mendel Notik. These and other essays can be read online at meaningfullife.com/essays.
And finally, the Chassidus question of the week: We find that Jewish philosophical books, like Emunos V'Deos, Moreh Nevuchim and theKuzari, present proofs for G-d's existence. Why don't we find the same in Chassidus Chabad? Since Chassidus is all about revealing G-dliness in the world and cultivating our relationship with G-d, why doesn't it begin with first offering proofs for the existence of G-d?
This hour-long dose of insights is meant to inform, inspire and empower us by applying the teachings of Chassidus to help us face practical and emotional challenges and difficulties in our personal lives and relationships. To have your question addressed, please submit it atmeaningfullife.com/mylife.
The topics in this Sunday's hour-long broadcast will include:
Chassidus Applied to Pesach
The significance of Yud Aleph Nisan
Can one be connected to Yiddishkeit without a Rebbe?
Have we implemented the Rebbe's vision?
Has the role of the Rebbe changed?
What can I practically do to disseminate the Sheva Mitzvos Bnei Noach?
 Surrounding children with kedusha – feedback
 Emunah/Bitachon – feedback
Cholov Yisroel – feedback
Announcement of 2nd Annual Essay Contest Winners
Chassidus Question: Why doesn't Chassidus Chabad offer proofs for the existence of G-d?
 MyLife Essays: Satisfying Our Emotional Void, Worldly Pleasures in Chassidus, Challenge Is in the Eye of the Beholder
In what has now become a staple in so many people's lives, MyLife: Chassidus Applied addresses questions that many people are afraid to ask and others are afraid to answer. When asked about the sensitive topics he has been addressing, Rabbi Simon Jacobson commented, "I understand that the stakes are high and great care has to be taken when speaking openly, but the silence and lack of clarity on matters plaguing the community can no longer go unaddressed. The stakes of not providing answers are even higher."
The on-going series has provoked a significant reaction from the community, with thousands of people viewing each live broadcast and hundreds of questions pouring in week after week. At the root of every question and personal challenge tackled by the series is the overarching question: Does Judaism have the answers to my personal dilemmas?
In inimitable "Jacobson-fashion", the broadcast answers people's questions in simple, clear language while being heavily sourced. Each episode is jam-packed with eye-opening advice from the Rebbeim, gleaned from uncovering surprising gems in their letters, sichos and maamorim that address our personal issues with disarming relevance. Simultaneously, Rabbi Jacobson is able to crystallize a concept quickly, succinctly, and poignantly for any level of listener.
All episodes are immediately available for viewing in the MLC's archive and can be downloaded as MP3s for listening on the go.
Questions may be submitted anonymously at meaningfullife.com/mylife.