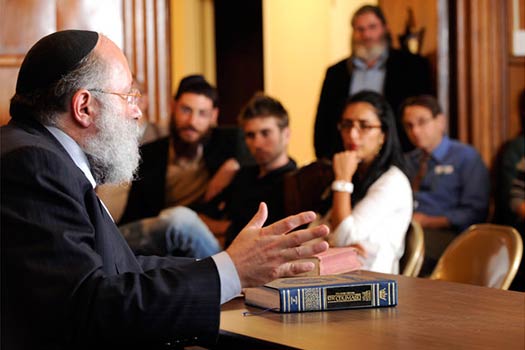 This week's edition of MyLife: Chassidus Applied with Rabbi Simon Jacobson, Episode 107, will air tonight, Sunday, here on CrownHeights.info, beginning at 8:00pm. This week Rabbi Jacobson will address the topics: Does G-d Need Us? How Did the Rebbe Address Disagreements? Why Does Chabad Make Such a Big Deal of the Rebbe? Women Contn'd; Is Resignation or Berating Oneself Ever Acceptable?
MyLife MP3s are available to download from the Meaningful Life Center Shop. Become a free member today and receive unlimited Mylife MP3 downloads.
What is one to do when faced with disagreements at work, shlichus or in mosdos? How does the Rebbe direct us in addressing machlokes?
Citing newly uncovered notes from the Rebbe, Rabbi Jacobson will present the Rebbe's approach to this painful but relevant issue in this week's 107th episode of MyLife: Chassidus Applied.
Other topics that will be discussed include, why does Chabad make such a big deal of the Rebbe, staying connected in a non-Jewish community, applying the idea of berating oneself in Tanya ch. 29, as well as follow up to previously discussed topics – the 12 Steps, women and the Tzimtzum.
Rabbi Jacobson will also review the following essays submitted in last year's MyLife: Chassidus Applied essay contest: "The Game of Hiskafia" by Yechezkal Gutfreund, "Recognizing the Plan" by Sara Stiefel, and "Going Straight to the Source" by Mordechai Chemel.These and other essays can be read online at meaningfullife.com/essays.
And finally, the Chassidus question of the week: I have heard some Rabbis say that G-d needs us, while other Rabbis adamantly disagree, arguing that this statement is sacrilegious. Can you please clarify the issue?  In defining a Jew's connection to G-d, Chassidus clearly describes a relationship. A relationship, as we know it, connotes give and take, a two-directional connection where both parties benefit and both parties contribute to the needs of the other. However, when we attribute that definition to a G-dly relationship, conflicting opinions emerge. How could G-d possibly gain something from His relationship with us that he didn't have before? If we agree that G-d does indeed need us and need this relationship, we are calling a complete G-d incomplete and undermining one of the Rambam's 13 Principles of Faith. On the other hand, if G-d doesn't need us or our contribution in the form of mitzvos, why did he create us? What is the point of devoting a lifetime to fulfilling Torah and Mitzvos if it makes no difference to Him at all?
This hour-long dose of insights is meant to inform, inspire and empower us by applying the teachings of Chassidus to help us face practical and emotional challenges and difficulties in our personal lives and relationships. To have your question addressed, please submit it atmeaningfullife.com/mylife.
The topics in this Sunday's hour-long broadcast will include:
        Chassidus Applied to Zachor
         What is the Rebbe's approach to disagreements?
         Why does Chabad make such a big deal of the Rebbe?
         Tzimtzum; Women; 12 Steps – follow-up
         How do we apply the concept of "berating" in Tanya chapter 29?
         Staying connected when not in a Jewish community
         Chassidus Question: Does G-d need us?
         MyLife Essays: The Game of Hiskafia, Recognizing the Plan, and Going Straight to the Source
In what has now become a staple in so many people's lives, MyLife: Chassidus Applied addresses questions that many people are afraid to ask and others are afraid to answer. When asked about the sensitive topics he has been addressing, Rabbi Simon Jacobson commented, "I understand that the stakes are high and great care has to be taken when speaking openly, but the silence and lack of clarity on matters plaguing the community can no longer go unaddressed. The stakes of not providing answers are even higher."
The on-going series has provoked a significant reaction from the community, with thousands of people viewing each live broadcast and hundreds of questions pouring in week after week. At the root of every question and personal challenge tackled by the series is the overarching question: Does Judaism have the answers to my personal dilemmas?
In inimitable "Jacobson-fashion", the broadcast answers people's questions in simple, clear language while being heavily sourced. Each episode is jam-packed with eye-opening advice from the Rebbeim, gleaned from uncovering surprising gems in their letters, sichos and maamorim that address our personal issues with disarming relevance. Simultaneously, Rabbi Jacobson is able to crystallize a concept quickly, succinctly, and poignantly for any level of listener.
All episodes are immediately available for viewing in the MLC's archive and can be downloaded as MP3s for listening on the go.
Questions may be submitted anonymously at meaningfullife.com/mylife.