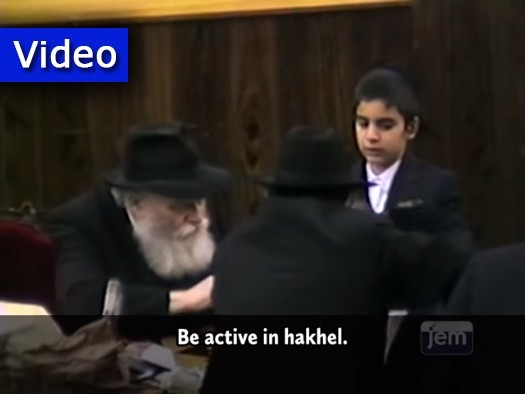 JEM offers a special presentation in this week's Living Torah, all centered around the Rebbe's focus on Hakhel.
In the Sicha, the Rebbe passionately demands that Chassidim get involved in the Hakhel campaign; "it isn't enough to just get by, one must be recognized as a "Hakhel Yid!"" The "My Encounter" clip brings an amazing story in which we witness the Rebbe's special affinity towards this Mitzvah. All in all, it's a program not to be missed.
In an excerpt from this week's program, JEM offers a fascinating collage of "dollars" during the Hakhel year of 5748 – 1987. The Rebbe could be heard telling each person who passes to "Ton In Hakhel – be active in Hakhel". It is clear in this clip, how much the Rebbe cared that it be taken seriously by each and every Yid.
May it be G-d's will that we need not spend another Hakhel year in exile; may we be led toward the redemption – speedily in our days – by our righteous Moshiach.