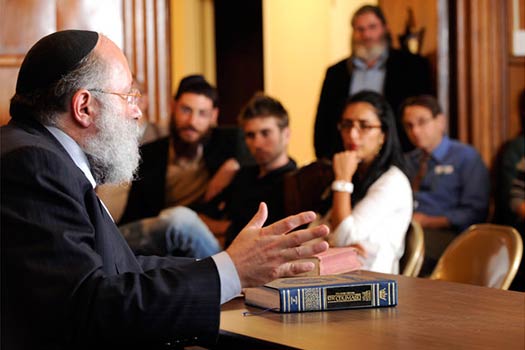 This week's edition of MyLife: Chassidus Applied with Rabbi Simon Jacobson, Episode 87, will air tonight, Sunday, here on CrownHeights.info, beginning at 8:00pm. This week Rabbi Jacobson will address the topics: Why Don't We Appoint a New Rebbe? Role Models that Disappoint; The Centennial of 16 Cheshvan 1915-2015.
MyLife is now available as a podcast and can be streamed or downloaded from iTunes.
"As uncomfortable as this question may be, I really would like to know – and am sure that many others are wondering the same thing – why Chabad doesn't appoint a new Rebbe? As the years pass our inspiration and standards are waning, we are more confused than ever about our Rebbe's view on issues challenging us today, our so-called "leadership" is a joke or just plain irrelevant to most, and we find ourselves at a loss about how to respond to the plethora of new obstacles faced by our generation.  How can we continue on without a living Rebbe of flesh and blood?  How can a spiritual Rebbe respond to the mundane problems in our personal lives and in our Avodas Hashem? Are we meant to continue relying on stories of yore and teachings in the books? My question is primarily due to concern for the next generation. How do we teach our children? Obviously, we won't find anyone close to the Rebbe, but why can't we appoint someone appropriate while still being mekusher to the Rebbe, as we have done in the previous seven generations of Rebbeim?"
In the spirit of our MyLife pledge to not shy away from any topic, Rabbi Jacobson will tackle this controversial question about the future of Chabad, while drawing from a centennial we honor this week (on the 16th of Cheshvan): one hundred years since the Rebbe Rashab left the town of Lubavitch, which served as the "capital" of Chabad for 102 years. How does the end of this era in Chabad – and the beginning of a new one – relate to us and our lives today?
Other topics to be reviewed include: is it wrong to expect appreciation in a marriage? What to do when our role models and mashpiim don't practice what they preach? How to trust in others and in Hashem? In addition, Rabbi Jacobson will respond to the volley of feedback that came in over the week.
Rabbi Jacobson will also review the following essays submitted in the MyLife: Chassidus Applied contest: "Overcoming a Personal Weakness", by Sharon Ben-Menachem; "Controlling the Future through Faith", by Yaron Zvi; "Preempting Anger", by Aliza Chekroun. These and other essays can be read online at meaningfullife.com/mylife/contest/.
And finally, the Chassidus question of the week: "I was fascinated by your explanation [last week] of applied Atzilus and its relevance to our personal lives. What struck me, however, is that based on your discussion, the entire concept of the spiritual worlds – Atzilus, Briyah, Yetzirah, Asiyah – are not properly explained to us in Yeshiva. We understand them in linear and spatial terms, like the planets in the solar system, when in truth they are dimensions and archetypes. Can you please elaborate on this and explain how we are to understand Seder Hishtalshelus and the different levels of the cosmic order in this context, and how they apply to our lives?"
This hour-long dose of insights is meant to inform, inspire and empower us by applying the teachings of Chassidus to help us face practical and emotional challenges and difficulties in our personal lives and relationships. To have your question addressed, please submit it at www.appliedchassidus.com.
The topics in this Sunday's hour-long broadcast will include:
Chassidus Applied to Vayeira
The end of an era: 100 years since the Rebbe Rashab left the town of Lubavitch
Why not appoint a new Rebbe?
Role models that disappoint
Appreciation
Trusting others and Hashem
Chassidus question: Seder Hishtalshelus applied: How to understand all these levels?
MyLife Essays: Overcoming a Personal Weakness, Controlling the Future through Faith, Preempting Anger
MyLife: Chassidus Applied addresses questions that many people are afraid to ask and others are afraid to answer. When asked about the sensitive topics he has been addressing, Rabbi Simon Jacobson commented, "I understand that the stakes are high, but the silence and lack of clarity on matters plaguing the community can no longer go unaddressed. The stakes of not providing answers are even higher."
The on-going series has provoked a significant reaction from the community, with thousands of people viewing each live broadcast and hundreds of questions pouring in. At the root of every question and personal challenge tackled by the series is the overarching question: Does Judaism have the answers to my personal dilemmas?
In inimitable "Jacobson-fashion", the broadcast answers people's questions in simple, clear language while being heavily sourced. Each episode is jam-packed with eye-opening advice from the Rebbeim, gleaned from uncovering surprising gems in their letters, sichos, and maamorim that address our personal issues with disarming relevance. Simultaneously, Rabbi Jacobson is able to crystallize a concept quickly, succinctly, and poignantly for any level of listener.
All episodes are immediately available for viewing in the MLC's archive and can be downloaded as MP3's for listening on the go.
Questions may be submitted anonymously at www.appliedchassidus.com.