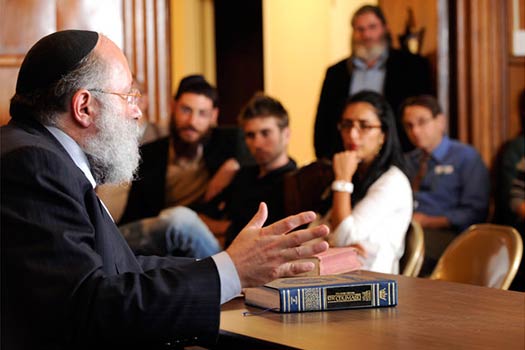 This week's edition of MyLife: Chassidus Applied with Rabbi Simon Jacobson, Episode 81, will air tonight, Sunday, here on CrownHeights.info, beginning at 8:00pm. This week Rabbi Jacobson will address the topics: Anatomy of Mental Illness; Personality Disorders; Criticizing Others; Understanding the Animal Soul.
What exactly is mental illness according to Chassidus? Medicine has its theories. Today scientific research suggests multiple, interlinking causes that affect mental health. These include genetics, environment and lifestyle, stress and trauma, and of course, biochemical processes and circuits (what is often called "chemical imbalances") as well as basic brain structure. But since G-d created the mind and the emotions, how did the Cosmic Engineer craft the human brain, and what are the underlying spiritual causes for a mental or emotional imbalance?
Join Rabbi Jacobson in this week's episode for a fascinating exploration of the mind and the unconscious – chochma and chochma stima'ah – through the lens of Kabbalah and Chassidus, coming away with applied lessons and interventions in dealing with one of the most devastating and mysterious forces impacting many lives – 1 in 5 adults experiences a mental health condition every year; 1 in 20 lives with a serious mental illness such as schizophrenia or bipolar disorder – both of those suffering from the illness, and of their families, friends and communities.
Other topics that will be addressed in this episode include:
"After listening to eighty inspiring episodes of MyLife, I would like to begin studying Chassidus. Please guide me on how to do it. Which maamar should I start with? Can you please provide guidance on how to study Chassidus and really understand it?"
Where do we draw the line between the mitzvah of "rebuking your neighbor" and inappropriately criticizing others? Why are people mixing into other people's business? "I have been to several homes where the topic of conversation at the Shabbos table, in the presence of all the kids, is not on the Parsha or a chassidishe story or hergesh, but about the flaws of others. Can you please address this and its negative effects?"
Rabbi Jacobson will also review the following essays submitted in the MyLife: Chassidus Applied contest: "Mastery Through Conviction" by Benzion Butman, "Establishing a Deep Sense of Identity" by Sholom Munitz, and "Eliminating Dissonance for a Happier Self" by Emmett Gilles. These and other essays can be read online at meaningfullife.com/mylife/contest/.
And finally, the Chassidus question of the week (our new feature): How do you explain the Nefesh HaBahamis and the Nefesh Elokis in relevant and contemporary terms? I understood the two to refer mostly to the moral choices we make – like whether to do a mitzva or commit a sin. Is there more to it than that?
This hour-long dose of insights is meant to inform, inspire and empower us by applying the teachings of Chassidus to help us face practical and emotional challenges and difficulties in our personal lives and relationships. To have your question addressed, please submit it at www.meaningfullife.com/mylife.
The topics in this Sunday's hour-long broadcast will include:
 MyLife Chassidus Applied to 13 Elul and Parshas Ki Seitzei
Criticizing others
The anatomy of mental illness
Where to start learning Chassidus?
Chassidus question: Understanding the Nefesh HaBahamis and Nefesh Elokis
Kabolas ol (follow-up)
MyLife Essays: Mastery Through Conviction, Establishing a Deep Sense of Identity, Eliminating Dissonance for a Happier Self
MyLife: Chassidus Applied addresses questions that many people are afraid to ask and others are afraid to answer. When asked about the sensitive topics he has been addressing, Rabbi Simon Jacobson commented, "I understand that the stakes are high, but the silence and lack of clarity on matters plaguing the community can no longer go unaddressed. The stakes of not providing answers are even higher."
The on-going series has provoked a significant reaction from the community, with thousands of people viewing each live broadcast and hundreds of questions pouring in. At the root of every question and personal challenge tackled by the series is the overarching question: Does Judaism have the answers to my personal dilemmas?
In inimitable "Jacobson-fashion", the broadcast answers people's questions in simple, clear language while being heavily sourced. Each episode is jam-packed with eye-opening advice from the Rebbeim, gleaned from uncovering surprising gems in their letters, sichos, and maamorim that address our personal issues with disarming relevance. Simultaneously, Rabbi Jacobson is able to crystallize a concept quickly, succinctly, and poignantly for any level of listener.
All episodes are immediately available for viewing in the MLC's archive and can be downloaded as MP3's for listening on the go.
Questions may be submitted anonymously at www.meaningfullife.com/mylifelive.