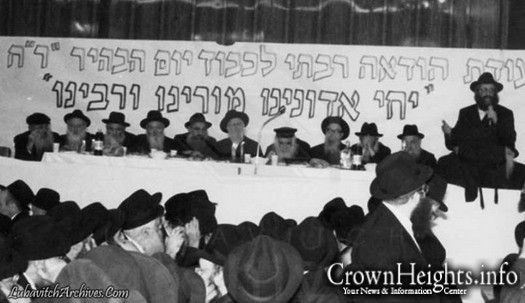 Reb Meir Harlig emcees one of the first annual Rosh Chodesh Kislev gatherings in 770, celebrating the Rebbe's recovery after he suffered a heart attack on Simchas Torah, 5738 (1977).
Rabbi Harlig continues to lead the annual Rosh Chodesh Kislev Farbengen in 770 to this day.
At the head table, sitting from left to right, are Rabbis Osher Sosonkin, Shiya Korf, Avraham Drizin (Mayor), Uziel Chazanov, Dovid Raskin, Mordechai Mentlick, Mendel Futerfas, Zalman Shimon Dvorkin, Chaim Meir Bukiet and Zalman Gurary.
Like Lubavitch Archives and enjoy daily historical pictures: www.facebook.com/LubavitchArchives.