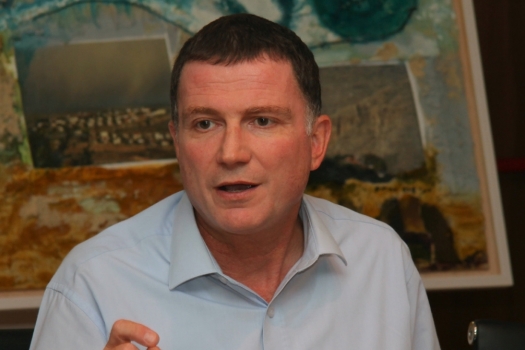 Yuli Edelstein
In his fascinating and heartwarming address to the International Kinus Hashluchim Gala Banquet tonight, Speaker of the Knesset Yuli Edelstein told of a particularly humorous episode – with an important lesson to boot – that occurred on his first day in the Holy Land after having been freed from the USSR.
After enduring a year in a Soviet gulag for his 'counter-revolutionary' activities, during which he lived through the painful experience of having a guard break on his knee a pair of Tefilin Yuli was caught hiding in his cell, Yuli was finally freed from his oppressors and made the fateful journey to Eretz Yisroel.
Upon his arrival in Jerusalem, Yuli was scheduled to be greeted by the Israeli Prime Minister and several other dignitaries at a ceremony celebrating his release at the Kotel. Unfortunately however, a problem arose when the taxi driver who picked him up from Ben Gurion Airport, an immigrant who had arrived in Israel from the USSR republic of Moldova seven years earlier, seemed to have no idea where the Kotel was.
"The cottage?" the driver asked, when Yuli announced where he was headed. "No, the Kotel," Yuli repeated, incredulously. "I have no idea what you're talking about," the driver insisted.
They tried asking fellow drivers for directions in their broken Hebrew, but to no avail. After several hours of wandering through Jerusalem, and frustrated that he was making the Prime Minister wait for him, Yuli finally exited the vehicle and asked three children walking nearby for directions to the Kotel. "Give us a lift and we'll show you," they said, as they jumped into the vehicle.
"By the way," one of them asked him, "any idea if Yuli Edelstein arrived at the Kotel yet?"
As the laughter in the audience died down, Yuli's face became very serious. "It may have caused you all to laugh, but that story was actually not funny at all," he said. That a man had the courage to escape from the USSR, and lived in the Holy Land for seven years, and yet not once was he introduced by anyone to the concept of a 'Kotel' – is not a laughing matter."
"And that is what Chabad is here to change," he concluded to thunderous applause. "That every Jew, no matter where on earth he may be, should know of 'the Kotel,' of G-d, of his Jewish identity, That is the job that needs to get done, and is being done day in and day out by the Rebbe's Shluchim."