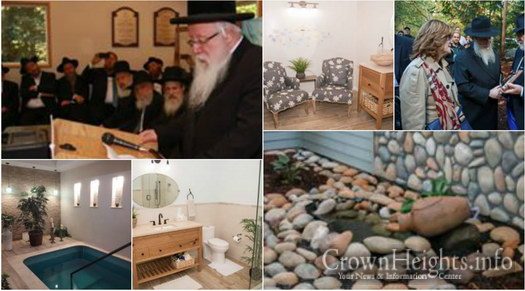 by Mikvah-USA
Three days before Yom Kippur, the Chabad Jewish community of Issaquah, WA joined to celebrate the Chanukas Habayis of a beautiful new mikvah.
Issaquah stands out on the North American map as a prestigious, fast growing community. Major corporate behemoths such as Microsoft, Amazon and Costco are headquartered in and around this Seattle suburb. Within the past decade or so, Issaquah's Jewish community has grown from virtual nonexistence to a thriving community with a robust Chabad, under the leadership of Rabbi and Rebbetzin Berry and Nechama Farkash as well as Rabbi Shalom and Chani Zajac. There is a growing local Chabad preschool and nearly 120 children attended Gan Yisroel daycamp this past summer.
Now, a mikvah – the foundation of taharah, the foundation of Jewish continuity – is located in the heart of town as well. The mikvah is beautiful and spacious, making taharah pleasant for all and, furthermore, attractive to countless potential new observers.
A special guest at the event was Rabbi Berry Farkash's parents, Harav Yekusiel and Rebbetzin Rachel Farkash shlit"a of Eretz Yisroel, a renowned talmid chacham and author of Sefer Taharah K'Halacha, among other seforim. The event was particularly poignant for the Farkash family, as the new mikvah is named "Mikvah Mei Rivkah" in memory of Rabbi Berry's sister, who tragically passed away last year. Rabbi Y. Farkash and his son Dudi spoke at the event and shared their emotional remarks regarding the beloved daughter and sister Riki OBM.
Rav Yitzchok Bistritzky shlit"a, Founder and President of Mikvah USA, traveled to Issaquah during this hectic time of the year so that he can personally partake in the momentous event. Rav Bistritzky addressed the Issaquah community, pleading with them to make the most of this beautiful new addition. "Mikvah is the foundation of our People," Rav Bistritzky exclaimed. "From generation to generation, we embrace it as holy and precious!"
"The Mikvah was built with the support and assistance of Harav Hagoen Reb Yotzchak and Rebbetzin Sheindl Raitport from Brooklyn NY. Rabbi Raitport who is a world renowned Mechaber Sdorim and Rosh Kolel built and supported many Mikvaot around the world. The Issaquah Mikvah as well received the Raitport assistance to complete the project".
Photos by Leeba Farkahs – LFPhotography