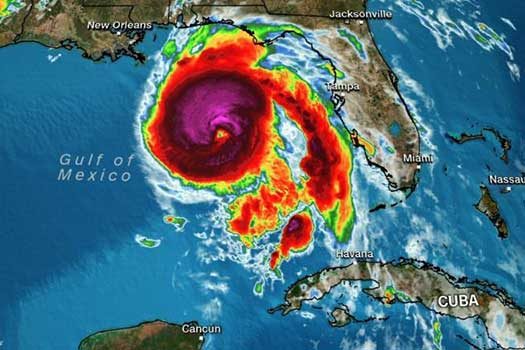 Hurricane Michael approached the Florida Panhandle as a Category 4 storm with sustained winds topping 130 mph.
by Faygie Levy Holt – Chabad.org
While tens of thousands were busying themselves with storm prep or heading out of town to escape the worst of Hurricane Michael—now approaching the Florida Panhandle as Category 4 storm with sustained winds topping 130 mph—Rabbi Mendel and Nechama Danow were just moving into their new home in Pensacola, where they will serve as Chabad emissaries.
Despite the fact that neither has ever experienced a hurricane before—she is from Israel and he grew up in Sweden—the Danows are ready to help where they can.
"We have been in touch with people we know in the community to make sure everyone is safe, and so that we can check in with them after the storm," Rabbi Danow told Chabad.org. "Part of our work here will be with students at the University of West Florida, a growing university with more and more Jewish students. We have already gotten to know some of them, so we called to make sure they have a safe place to stay during the storm."
The Danows have had some preparing to do for themselves as well. The couple spent their first day in Florida trying to secure much-needed supplies, including gas for their rental car, a case of water, flashlights and batteries.
"We had planned to come right after Simchat Torah and that's what we did, undeterred by the approaching hurricane," said the rabbi. "Chabad comes to a city to make sure everyone has what they need physically and spiritually, and we hope to do that to the best of our abilities."
Offering Students Kosher Meals and a Place to Stay
In Tallahassee, which was expecting damaging hurricane-force winds and severe flooding rains, Rabbi Schneur Zalman and Chana Oirechman, co-directors of Chabad Lubavitch of the Panhandle, were preparing to ride out the storm at their Chabad House along with their children. They also opened their Chabad House to those students from nearby Florida State University who have remained in Tallahassee and don't want to be alone.
"We are offering dinner at the Chabad House tonight [Tuesday], and we have secured a number of propane tanks so we can cook on the grill if the power goes out and we plenty of water, ice and flashlights," said Rabbi Oirechman, who remembers clearly the destruction from Hurricane Hermine in 2016. "Last time, we had major damage; lots of trees fell in the city, and we had no electricity for a week, but we stayed and we are staying now to offer assistance to everyone after the storm."
In the coastal town of Destin, Fla., which is under mandatory evacuation, Rabbi Yeshayahu and Rochel Tenenboim, co-directors of Chabad of the Emerald Coast, headed west with their five young children to ride out the storm.
Before doing so, they contacted people in their neighborhood and in the low-lying Panama City to make sure that everyone who wanted to evacuate had the means to do so. Most of the people he spoke with had already left the area.