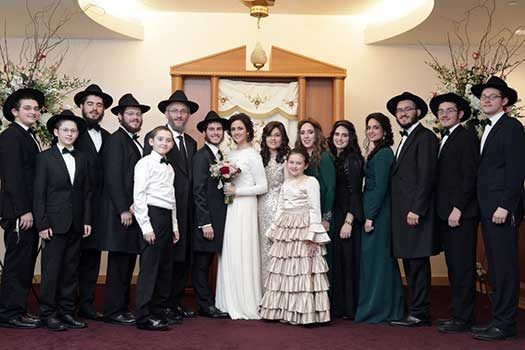 The Sasonkin family at the wedding of their sibling Mussie Sasonkin to Menchem Klein.
by Menachem Posner – Chabad.org
When newly ordained Rabbi Mendel Sasonkin moved to northeastern Ohio in 1989, he knew just a smattering of English. But with a broad smile and an open heart, he was ready and willing to serve the Jewish communities in Canton and Akron, cities south of Cleveland.
Over the next three decades, he and his wife, Kaila, have led, taught and inspired a generation of Jewish Ohioans.
"The rabbi and Kaila made you feel like you were their special friend," says Todd Stein, who has lived in Akron all his life. "Then you would talk to someone, and you would discover that they had the same experience."
The oldest of nine siblings, Mendy Sasonkin was born in 1964 to Rabbi Avraham and Sara Rivka Sasonkin in Israel, where they had been sent by the Rebbe—Rabbi Menachem M. Schneerson, of righteous memory—to serve as emissaries. His Russian-born father was a "graduate" of the underground Chabad educational system that functioned in the USSR, despite Stalin's best efforts to snuff out Judaism. His mother had grown up in Pittsburgh, where her parents, Rabbi Sholom and Chaya Posner, were pioneering Chabad emissaries.
The Sasonkins made their home in Moshav Avital, a community outside of Afula in Central Israel. Mendy grew up watching (and helping) his parents teach Torah and promote Jewish observance in a community of recent immigrants from Islamic lands and a host of other countries.
By the time he was 17, Mendy was learning in the Crown Heights neighborhood of Brooklyn, N.Y., where he drank in the holiness and vitality that emanated from the Rebbe. He made it his business to be present (and attentive) at every public talk, carefully listening to and internalizing the Rebbe's teachings.
He left Brooklyn for an extended period of time when he was selected to serve as an emissary to the Chabad yeshivah in Johannesburg, South Africa.
In 1988, he married Kaila Alevsky, who grew up in Cleveland, where her parents, Rabbi Leibel and Devorah Alevsky, have been Chabad emissaries since 1972. Within a year of their marriage, the couple moved to the Canton-Akron area and began reaching out and creating Jewish programming. From 1990 to 1995, they led the Agudas Achim congregation in Canton.
"The rabbi was everyone's rabbi here, no matter which synagogue you belonged to," says Stein. "Everyone felt welcomed, everyone felt accepted, and everyone felt respected and listened to. When you came to discuss an issue with the rabbi, you never felt talked down to, and you always left with something substantial, a lesson."
In 1995, the venerable Anshe Sfard, which had been founded in 1915 in Akron, was at a crossroads. Their longtime rabbi was ailing, and membership was dwindling. Having gotten to know the Sasonkins through their various activities, the synagogue leadership invited the couple to take the helm of their synagogue.
From then on, Anshe Sfard was the seat of all Chabad activities in the area.
"Holidays with Rabbi Sasonkin were a treat," says Stein. "His sons would act as the choir, and to see him with them with his special smile was just something to treasure,
About five years ago, just as he fell ill with cancer, the rabbi spearheaded a $6 million expansion and renovation to the synagogue's campus, which had been built in the 1970s. It is a testament to his stamina and the close connections he forged in the community that the project was all paid for by a community that numbers 3,000 Jewish households even before construction began.
Even as his body was ravaged by illness, he continued to remain positive and upbeat. He passed away on the joyous holiday of Simchat Torah.
In addition to his wife, parents and in-laws, he is survived by children Rabbi Shmuli Sasonkin (Winter Park, Fla.), Rabbi Chaim Sasonkin (Parkland, Fla.), Rabbi Moshe Sasonkin (Kent, Ohio), Mussie Klein (Memphis, Tenn.), Berele Sasonkin, Levi Sasonkin, Meir Sasonkin, Ari Sasonkin, Yossi Sasonkin and Chana Sasonkin, all of Akron; and many grandchildren. His siblings are Rabbi Moshe Sasonkin, Chanie Kalmenson, Rabbi Berele Sasonkin, Itty Goldshmid, Rabbi Nochum Sasonkin, Rabbi Yechezkel Sasonkin, Malky Goldshmid and Rabbi Yehuda Sasonkin.
Donations may be given to the legacy fund established to ensure that the Sasonkin family will be cared for in the years ahead.