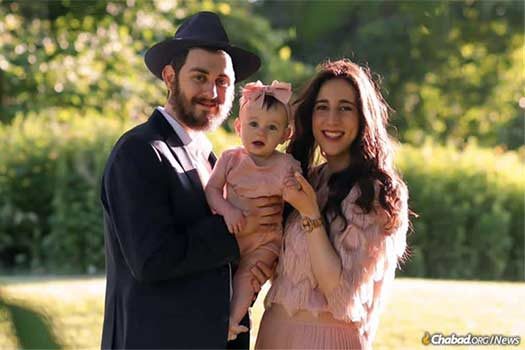 The opening of Houston's newest Chabad center, under the direction of Rabbi Levi and Devorah Leah Marinovsky, was timed to start by the one-year anniversary of Hurricane Harvey as an expression of the tenacious vitality of the Houston Jewish community.
Chabad-Lubavitch emissaries throughout Houston gave the gift of exhaustive material and spiritual sustenance to fellow victims of America's second most costly tropical storm, Hurricane Harvey, last year. Upon the anniversary of the monumental disaster as the city continues to reflect on and dig out from the nightmarish catastrophe, another gift has been proffered: A new Chabad center in one of the hard hit locales.
Hurricane Harvey at $125 billion in damages, primarily from torrential flooding in the Houston area over a four-day period the last week of August 2017, is considered in U.S. hurricane history second in monetary damages only to 2005's Hurricane Katrina, which wreaked some $161 billion in damages, according to U.S. Commerce Department records. During the storm and its aftermath, more than 13,000 people required rescue throughout Texas, with some 30,000 displaced by the flood waters and 82 losing their lives, with Houston the hardest hit.
Biana Godin, a single mother of two boys and one of the more fortunate victims, reminisced with Chabad.org about her experience during the hurricane as she was about to step out of her door in the suburban community of Cypress in northwest Houston to attend a house-warming party on Sunday, at what will be the 12th Chabad center in the Houston area. The center, to be co-directed by Rabbi Levi and Devorah Leah Marinovsky, was timed to start by the Harvey anniversary as an expression of the tenacious vitality of the city's Jewish community.
"The waters started to rise very suddenly," she said. "In one hour, they went from zero at our doorstep to shoulder-level at the end of my driveway."
With no way of exiting from the front of her home, Godin, and her 11-year-old and 16-year-old boys, with their pet in tow, calmly as possible stowed their valuables on the second floor of the home and escaped through the backyard to higher ground.
One of the flood-equipped trucks circulating on the roads—some of which had been commissioned by Chabad emissaries for the many needed rescue efforts—picked the family up and brought them to safety.
Godin said that only a half-year before she had her mezuzot checked, and two needed replacing. She was helped by Rabbi Dovid Goldstein, who at the time was the nearest of Houston area's many Chabad rabbis.
She returned home two days after Harvey to a bittersweet surprise. While the homes to her right and left had been devastated, along with about half of the other homes in the community, hers was dry.
"My house was protected," she said. "I was so happy. Then I got to work helping my neighbors."
A New Beginning
In the days leading up to the new center's opening, Rabbi Shimon Lazaroff, Texas regional director of Chabad-Lubavitch, welcomed the new emissaries and the new center.
"In keeping with Chabad's dedication to Houston's long-term recovery, I'm ecstatic to welcome Rabbi Levi and Devorah Leah Marinovsky to the team of Houston area emissaries," said Lazaroff.
He said the new center is one of many efforts by Chabad to help rebuild the community at large that has been continuously aided by a patchwork of helpers from the day Harvey struck until today.
"The force of Harvey brought together all forces of the Jewish community, especially demonstrated by the Chabad centers' husband and wife emissaries, along with volunteers hailing from across Texas and the world who helped with material and financial support," said Lazaroff.
The relief campaign, officially dubbed Chabad Harvey Relief, ranged from provisions of kosher food, including a volunteer women-run soup kitchen supplying between 300 and 600 meals a day, housing for thousands of homeless evacuees and rescue efforts that in some cases involved deploying residents with high-water vehicles, kayaks, trailers and other boating equipment to bring to safety scores of residents like Godin and her family.
Such volunteer efforts were essential as by the second of four days of unremitting rains a clogged metro area 911 emergency system informed citizens to stop calling unless their lives were threatened, advising them to instead seek high ground in their homes, including the roof if needed.
In the worst areas, some 50 inches of rain were dumped over the four-day span, from Aug. 26 to Aug. 29 last year, as much rain as Houston sees in a typical year.
The efforts by the emissaries and their children to care for others took place often in the face of their own dwindling food supplies, with flood waters penetrating their own homes and centers.
Rabbi's Diary Chronicles Disaster
The phenomenon was graphically demonstrated in diary put together in the midst of the crisis by Houston metro area Chabad rabbi, Rabbi Yitzchok Schmukler, who expressed his worries about the safety of his own family and a next-door neighbor, gabbai of his synagogue, in the following snippet from the diary.
"Were we safe in our home?" Shmukler, who co-directs Chabad of the Bay Area in League City, with his wife, Malky, wrote in Tablet.
"Our kids wanted to know. Our quaint neighborhood of Clear Creek Village gets its name from the small river that runs alongside it. Would our street flood? What about our neighbor Shlomi and his family? Shlomi is our close friend and the de-facto gabbai at our Chabad House. He, his wife Samantha and two small children recently moved into the neighborhood to be within walking distance of the Chabad House. Behind his house are beautiful woods that lead up to the creek."
At 4:35 a.m., Shlomi texted Schmukler that water was coming into his house. An hour later, water in his neighborhood reached the mailboxes—too high to evacuate.
"He'll have to seek higher ground within his one-story house, but where? The attic. But you can get trapped in the attic."
Later that day, Shlomi and his family are rescued, soon joining the Schmuklers in their home, which sits on higher ground.
Chabad Disaster Relief Has Been Ongoing
In the weeks and months after the rains subsided, the disaster relief continued, including home reconstruction help from Chabad emissaries such as Rabbi Chaim Lazaroff, Texas regional program director of Chabad-Lubavitch, all more experienced wielding Torah pointers than hammers and saws, and consolation sessions by the dozen.
College students came from around the country to join the help brigade and a Chabad-run fundraising effort was mounted to help with the enormous costs of the relief program.
Help also came from unlikely places, such as local teens who worked tirelessly in the aftermath of the hurricane for weeks to help in the salvage and rebuilding process.
"It was amazing how all of the communities came together and helped one another," said Bayla Fishman, 16, who was part of a platoon of Houston area high-schoolers arranged by Chabad, working under local social worker, Gitty Francis, out of a makeshift headquarters. "Despite all of the destruction that Harvey caused, it also created a huge amount of strength and unity."
A year later, the rebuilding goes on, along with the work of Chabad.
In the mix of some 30 guests at the Marinovskys' open house on Sunday, were Cypress residents who were healed and recovered and others still struggling, including from having to pay back exorbitant loans for repairs when insurance wasn't available, said Godin. But all agreed that the presence of Chabad in their neighborhood would make a big difference.
Full-Time Chabad Presence Welcomed
"I am really excited that we now have a rabbi in Cypress," said Godin, who had been traveling 40 minutes to Rabbi Goldstein's neighboring West Houston Chabad center for Hebrew school for her children and other programs. "I think it is absolutely awesome, and whoever I spoke to is very excited as well."
The Marinovskys, appointed by and working under the direction of Goldstein, began warming up to what has turned out to be a welcoming community with public menorah-lightings and a Purim celebration over the past year before assuming their new position. In the weeks to come, they said, the center will be providing adult-education classes, youth programs, community events, and Shabbat and holiday services in typical Chabad-style, and is taking reservations for a dinner planned for the first night of Rosh Hashanah. Godin and her children are already signed up.
"We are very excited about the opportunity to provide a welcoming environment for all Jews in the area where they can learn and experience their tradition," said Marinovsky, a Houston native, graduate of the Chabad-run Torah Day School of Houston, and son of longtime Houston emissaries Rabbi Betzalel and Leah Marinovsky.
His wife, Devorah Leah, a Brooklyn native and daughter of emissaries Rabbi Avraham and Chana Hertz, in the spirit of the Harvey relief effort, which saw so many go out of their comfort zones in every way to help others, added: "We are inspired by the Rebbe [Rabbi Menachem M. Schneerson, of righteous memory] to not only think about our own religious comforts, but to go out and make a difference in the world."