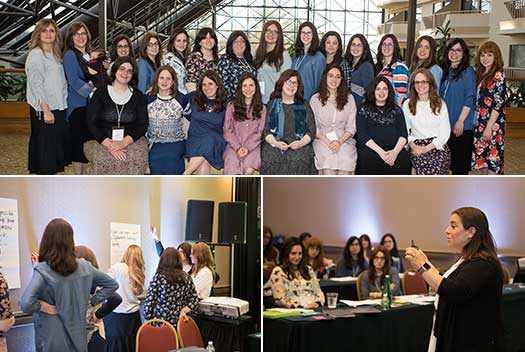 Supporting Jewish students takes skill, passion, commitment, empathy and teamwork. On university and college campuses around the globe, the Chabad Shliach and Shlucha are the ones who make that happen.
Last week, 27 campus Shluchos from around the world came together to learn from industry experts and to share ideas at the first Chabad on Campus International Shluchos Pedagogy Training. The group spent three intense days at the DoubleTree Hilton hotel in Newark, New Jersey, learning with renowned presenters and focusing on developing key skills.
"Being a teacher means always being a learner. Even our greatest sages are called 'Talmidim' students," said Rabbi Yossy Gordon, executive vice president of Chabad on Campus International. "Chabad on Campus International's Strategic Initiative gives experienced Shluchim and Shluchos the opportunity to share their successes and discover new techniques for engaging and inspiring Jewish students on campus."
During the event, the Shluchos heard from Executive Speech Coach and Trainer, Meagan Buren, who provided tips for being confident when speaking in public.
Shluchos also attended masterclasses on curriculum planning, different learning modalities and teaching texts, led by Mrs. Shaindy Jacobson, director of The Rosh Chodesh Society, the women's studies division at the Rohr Jewish Learning Institute, and Mrs. Bracha Yanni, MA, director of learning and curriculum at Mazel Day School in Manhattan Beach.
The Shluchos even benefited from the vast experience of Dr. Chana Silberstein, Ph.D., Shlucha at Cornell University for 34 years. She spoke about inspiring students in long-lasting ways through experiential learning.
"It was a real privilege to help plan the pedagogy conference, seeing the huge role we play as teachers and mentors," said Mrs. Sarah Deitsch, Shlucha to Ohio State University and a member of the conference organizing committee. "I love to teach and I learned so many practical, helpful tips and strategies on how to improve and hone my skills and my presentation. I really had the opportunity to expand my teaching capabilities and strategies for large group settings and for individual teaching sessions."
Chasi Rothstein, a Shlucha at the University of Pittsburgh, added, "We were given the opportunity and space to learn, question, and explore what it means to be a real educator. Chabad on Campus International provides many classes for us to teach the students, but this session was the first of its kind, focusing on the science behind teaching and applying it to Shlichus in general."
Along with growing their skills, Shluchos enjoyed delicious, catered meals and a farbrengen led by Mrs. Sara Blau.