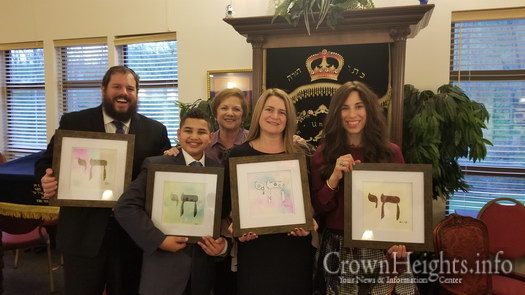 13-year-old Aiden Axler donates original artwork to Chabad Hebrew School in Chester in honor or his bar mitzvah. (L to R) Rabbi Pesach Burston, Aiden Axler, Bonnie McCarthy (Aiden's grandmother), Jessica Axler and Chana Burston
Aiden Axler of Highland Mills understands that reaching the milestone of celebrating Bar-Mitzvah means contributing to the world on a larger level.
"I have created a set of artwork which I am donating to Chabad Hebrew School," Aiden announced at his Bar-Mitzvah ceremony this past Thursday, May 10.  Aiden's art was displayed at his Bar-Mitzvah ceremony held at the Chabad Center in Chester and will remain at Chabad for all to enjoy.  Four framed pieces featuring the Hebrew word "Chai," which means "Life," were created using various mediums with a hand-painted background.
Rabbi Pesach and Chana Burston, directors of Chabad of Orange County, praised Aiden while officiating at the ceremony.
"Aiden has been a creative and wonderful student at Chabad Hebrew School for many years," says Rabbi Pesach Burston, "and we are thrilled to beautify a classroom with his unique Jewish artwork."
Chana Burston told Aiden in the ceremony that "G-d endows us each with special talents, and it is our job to use these gifts to brighten the world.  Today you have showed us that you are spreading goodness through your art – and that makes us extremely proud."
Aiden also presented an original painting to his Bar-Mitzvah mentor, Sid Hershkowitz, of Highland Mills.  The painting depicts a scene from Aiden's Biblical Portion which he learned with Hershkowitz.
Chabad of Orange County, directed by Rabbi Pesach and Chana Burston, assists and officiates lifecycle events. For more info www.ChabadOrange.com