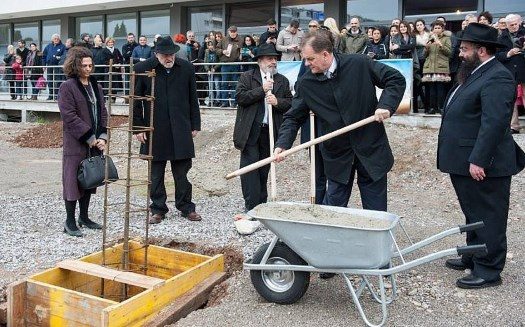 The cornerstone is laid for a new synagogue in Podgorica, the capital of Montenegro.
The President of Montenegro, a country on the Adriatic coast in Europe, joined Shliach Rabbi Ari Edelkopf, who earlier this year became Montenegro's first resident rabbi in over a century, to lay the cornerstone for what will be the Balkan nation's first synagogue in hundreds of years.
From the JTA:
Montenegro's foremost politicians joined their president and faith community leaders for the first laying in centuries of a cornerstone for a synagogue in the area that now comprises that Balkan nation.
President Philip Vujanovic was joined Tuesday at the synagogue's construction site by the acting and former mayors of the capital of Podgorica, Slavoljub Steipovich and Myomir Mugosha, and the heads of the country's state-recognized religious streams and faiths, which include Catholicism, Easter-Orthodox Christianity, Islam and Judaism, the Balkan Pro news site reported.
Also in attendance at the ceremony, which took place earlier than scheduled, was the president of the local Jewish community Yasha Alfandari.