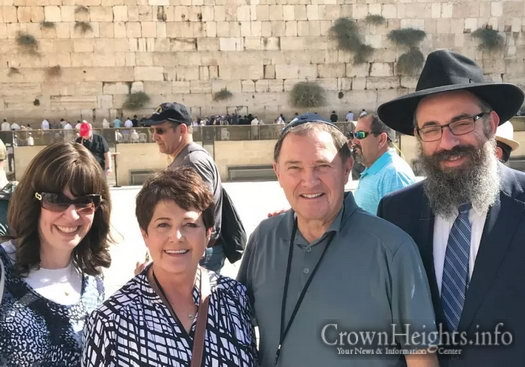 During a recent trade mission, Rabbi Benny Zippel (right), his wife Sharonne (left), Utah Governer Gary Herbert and his wife, Jeannette, visit the Kotel.
The Jerusalem Post profiled Rabbi Benny Zippel, a Chabad rabbi who brings Jewish life to Utah, and forges an unlikely friendship with the local Mormon population.
From the Jerusalem Post:
Rabbi Benny Zippel was surprised when he was initially approached by the Chabad World Headquarters to establish a Chabad house in Salt Lake City, Utah. It was December 1991 and Rebbe Menachem Mendel Schneerson, the seventh and last in the line of Chabad Lubavitch leaders, was preparing to celebrate his 90th birthday a few months later.
As a birthday gift, Chabad wanted to establish a presence in Utah, an area that was greatly underserved in terms of Judaism. Zippel wrote to the rebbe for a blessing before embarking on the mission on February 26.
When a few days passed without a reply, he decided to go see Schneerson in person.
"The rebbe was told who I was and that I was coming to see him about opening up a Chabad house in Salt Lake City. He gave me a blessing, that it should be a tremendous success. The next day, he suffered a stroke and didn't speak again for the next two years until his passing. We consider it a tremendous privilege that we received that blessing," Zippel recalls.